On to the Wedding, March 8, 2006
The train ride from Secunderabad to Vijayawada was seven hours. The return was five. If the tea on the railroads has changed from earlier years, so too has how we spend train rides. This trip we plugged our extension cord into the socket beside our window and worked on our computers the whole way. In years gone by we might have slept! Amazing!


Our hotel in Vijayawada had great food (and very hot water for showers). We ordered three curries (without chili!), never dreaming that the portions would be so substantial. With some difficulty, we asked the staff to pack our leftovers so we could have them with our complimentary breakfasts the next morning. An elderly man in the next booth helped to explain our request. We never know who is going to speak English and who isn't going to understand a word!


Ken's Birkenstocks were on their last legs, so to speak, so he was excited to see a bonafide shoe store across the street from our hotel in Vijayawada. He bought some new sandals, called "Red Ford Cool Collection for Men." Let us share the details with you, quoted exactly, of course:


Red Ford

Dear Customer,

Thanks for choosing Red Ford Footware, We at Red Ford have the Philosophy of educating the customers about the quality and all technical developments in the product, Red Ford is an ideal working shoe of latest technology by an experienced team and made from genuine Synthetic for extra comfort. It is ideal for executives to move on earth whole day long. Using finest materials and skills manufacturing. Over emphasis is given to maintain softness, durability and value.

We trust you would like it. Thanks

From Vijaywada we took a car to Tenali, which was a pleasure because we could actually see the countryside, whereas the windows on the train were both tinted yellow and dirty. We crossed the wide Krishna River and followed a series of canals to the wedding venue. This region has plenty of water, and actually produces three rice crops a year. Tenali is called the Paris of Andhra Pradesh, for reasons that we never understood, but the rice is certainly tasty!


DJ was remarkably attentive, calling us by cellphone regularly. Not just us, but he seemed to be on the cell phone half the time during the ceremony itself. He had arranged for us and other friends from the States to stay at the Gautam Hotel. Our room was huge, with marble floors, and a large sitting area. It felt like a luxury suite!


It was great to attend DJ's wedding. We enjoyed our VIP welcomes and marveled that DJ himself kept track of our comfort and well being, taking care of all arrangements personally. Another American friend, Kim, knew DJ from her time volunteering at Timbuktu (India, not Africa!), where DJ used to work. She brought a friend of hers, Susan, who was visiting India for the first time.


Traditional Indian weddings can take as long as three full days and nights, with the groom arriving by elephant or horse. DJ, however, firmly resisted, and managed to shorten things up considerably. It was brave of him to simplify the event, but it was still a dazzling spectacle. We were picked up and driven to the wedding hall at 4:30 in the afternoon and had a chance to sit outside chatting and enjoying cool breezes while the last decorative touches were applied to the hall. Then we watched as a beautiful silk turban was carefully wound around DJ's head. This was the beginning of all the dressing, decorating, and manipulating which the groom and bride were subjected to. Unlike the west, a wedding here is the groom's show, but being the center of attention means being dolled up, moved, posed, prodded, and crowned with a headdress defying description. It also means hours and hours of rituals under hot bright lights with cameras rolling. It is no picnic!

| | | |
| --- | --- | --- |
| | | |
| | | |
Normally the groom goes to the bride's house and offers a dowry. For this ceremony, the backstage room at the left represented Veena's house, and that on the right represented DJ's house. In the first part of the ceremony, Veena's younger brother invited DJ to join the family. The two of them sat opposite each other in the center of the stage with a brahmin who directed them in offering food to each other, symbolically brushing each other's teeth, and more. Nice twist.

| | |
| --- | --- |
| | |
| | |
There were a number of foci of the wedding, performed by a couple of brahmins, who recited various Sanskrit texts. Throughout, there were two bands adding both frenzy and drama to the ceremony, emphasizing the high points with drum rolls and blaring horns. One, with musicians dressed in white dhotis, played traditional instruments. The other, resembling the Salvation Army, was more like a marching band. At the side of the hall, in the courtyard, three rows of long tables were set up for dinner. During the whole wedding, people were being seated and served thalis--chapatis, curries, pickles, curd, rice, and sweets. As soon as one seating finished, the paper tablecloth, 18-inch aluminum foil plates (replacing the traditional banana leaves) and plastic water glasses were cleared away, new paper was unrolled, place settings were laid, and another group of well-wishers were served with military precision. In all, 500 to 800 people enjoyed a meal. It seemed that many of them never came inside the hall.


The colorful ceremony, of which the magnificent saris worn by the bride and the guests were a brilliant part, was filled with rituals--offering gifts to the in-laws, paying respects to the parents and elders, decorating the bride with yellow tumeric, pouring (or tossing) rice and fennel on the heads of groom and bride, purifying the couple with smoking camphor, breaking coconuts, pouring the water over yet other offerings, feeding the fires with various substances, circling the fire, tying strings, and garlanding and feeding each other. It was completely different from a happy Polish, Jewish, or Japanese wedding reception. Rather than fun, most of this seemed to be serious business. By the end of it all, DJ and Veena must have been exhausted. We joked that an Indian wedding is so laborious and draining that nobody would want to get a divorce and go through it again. It was well past midnight when we got back to our hotel. The next morning we learned that DJ, Veena, and DJ's parents had crashed at the wedding hall, with mosquitos but no nets. They had not slept more than a couple of hours. The concept of honeymoon hasn't made it to Tenali.

DJ paying respect to his mother by circumambulation
Blessing the new couple
The two fathers accepting each other as family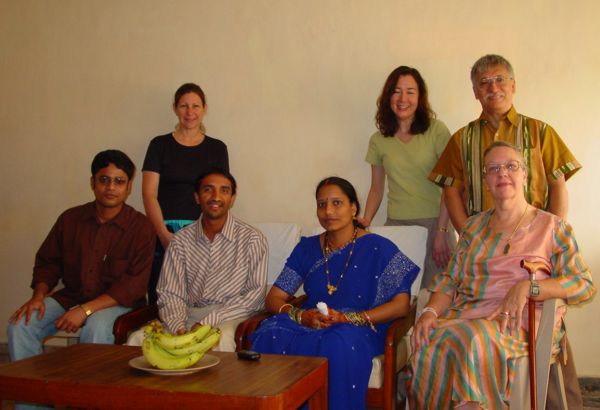 The next day, DJ and Veena were going to his village for another ceremony, but before they left, they wanted to spend a little time with us (meaning all the friends from overseas). About seven-thirty in the morning he called and asked if they could come to the hotel. We tidied up (Why does any room we've been in for more than five minutes look like we've lived there a month?) and ordered several flasks of tea. The very attentive bellboy offered to bring more chairs. It was a lovely party with Kim, Susan, and Sai, a young man who has studied with DJ and is now working in Louisiana. (A smaller room would have been impossible!) DJ and Veena had requested "No Presents" but since we were coming from afar, we felt entitled to break the rule. We gave them a fancy package of Sri Lankan tea, a Sri Lankan batik table cloth and napkins, as well as an inscribed copy of Bhikkhu Bodhi's new book, "In the Buddha's Words," (DJ had met Bhikkhu Bodhi in Flint and intends to practice meditation with Veena shortly after they settle down in their new life) and a copy of "Strive On With Diligence". At Dj's prompting, Sai, who is a semi-professional singer sang a Telugu love song in which a young man compares his love to pure honey--even her tears are sweet. It was a lovely chanson.