Bodhirukaramaya, April 21, 2010
How auspicious to start the New Year with a trip to a remote and deserving monastery!


Last summer, our old friend Hoon, from Malaysia, informed us that she was bringing a group of pilgrims to Sri Lanka for a pilgrimage to offer dana to respected monks in various corners of the island. We offered suggestions about her itinerary, and she kept us informed of her plans. It soon became apparent that she was not happy with the agents she had found, so we suggested Jagath, the young man who had faithfully served as steward to Ven. Sumedho during the last years of his life. We assured her that Jagath was a licensed tour guide and that he was as honest as the day is long. She contacted him, was pleased with his response, and gave him the responsibility for the arrangements.


| | |
| --- | --- |
| | |
| Click the image to read the article, "Monks of a Lesser Order?," The Nation, December 27, 2010 | |
| | |
Shortly before this, we had read in one of the local newspapers about a monk who had opened his monastery to elderly and infirm monks who had no other place to go. The story was quickly picked up by bloggers and posted on the internet. Thinking that Hoon might be interested, we sent her the article. Her response was immediate and enthusiastic. She scheduled a visit to the monastery near Kurunegala for their first day in the country, and we arranged to meet them there.



Saturday morning, April 17, we hired a van and packed a picnic lunch in our tiffin carrier. About 10:30, Lily, Charles, and the two of us headed for Kurunegala. It was a completely new road for us. The drive from Kandy was almost all downhill, with an excellent road and lovely scenery. It was oppressively hot, but with the windows open, the ride was pleasant.



We arrived in good time at the home of some of Charles' friends, where we intended to have lunch. We told the couple of our plan and learned that they not only knew the monastery but had offered dana there. They explained that it was quite difficult to find, but the wife volunteered to go with us. Just then, Jagath called to say that the group would reach the monastery in about half an hour. We were also about half an hour away, so we postponed lunch and hurried to meet them. To say that the monastery is hard to find is an understatement. The turn-off is unmarked and without any obvious landmarks. From the main road, a single lane winds through fertile rice fields for about three kilometers, then climbs past a small village into the hills, narrowing as it goes.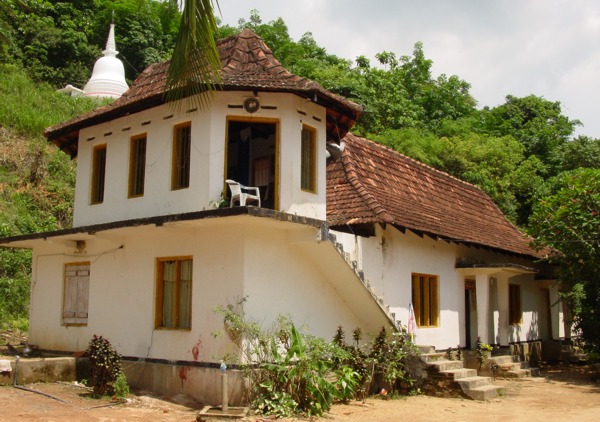 The monastery is about one hundred fifty years old, with a simple whitewashed chedi on a hill above the old Bodhi tree. According to our guide, the previous head monk was disliked and distrusted by local villagers and had received little support. He left the monastery in a run down condition. The new abbot, Ven. Amilasiri, on the other hand, goes on pindapata in the nearby village and is highly respected.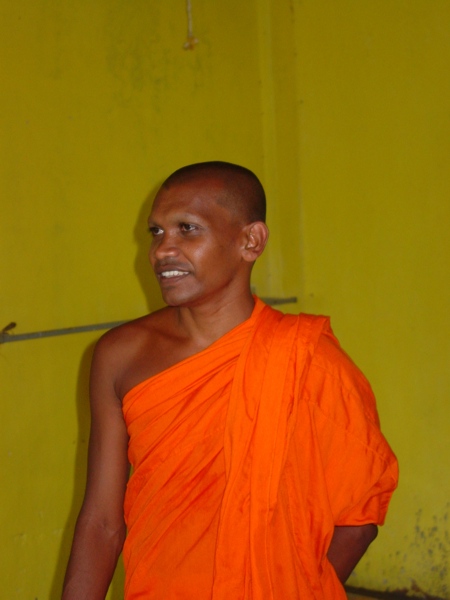 Ven. Amilasiri doesn't speak English, but he warmly welcomed us. We were impressed by his reticence; he doesn't seem to be overly ambitious with grand schemes. He is, nevertheless, a very sincere monk with a strong sense of duty and a great deal of metta. We felt that he was happy to have us visit but that he was not at all greedy. Some of the older buildings in the monastery compound have been repaired, and we could see where the land was being cleared for another building. He showed us the new ward which had been built by the local police force. It is a sturdy building with a good roof. The windows are large, so that it is both airy and bright. Two elderly monks were resting there, and a third appeared to be bedridden. There were a few bare bedframes, for which Hoon's group was donating mattresses. The floor was tiled, but, unfortunately, the donation of tiles was a little short, leaving one corner and the attendant's room bare concrete. We estimated that it would cost about $175 to complete the floor. The only entrance to the hall is a steep ramp, but there are plans for a gently sloping, wheelchair-friendly bridge from the side door to the space in front of the Bodhi tree. We saw the bags of cement protected in a shelter near the main hall.

While we were there, some men arrived to examine the condition of the roof of the main hall and to make an estimate for repairs, which they were donating. Ven. Amilasiri told us that there are about sixty monastics registered at the monastery, but some have to stay elsewhere temporarily until a new hall can be built.

When we arrived we noticed that the young monks and novices were quite shy, but, after some persistent questioning, they told us that the bhikkhu training center where they study was about a kilometer and a half away. They added that their studies were going well but that they needed notebooks, so we promised to send some soon. We were happy to donate a case of juice, some towels, tea, milk, sugar, soap, and toothpaste.


We were pleased to see a large concrete water tank on the hill behind the Bodhi tree since water in the dry season must be a problem. Electricity is also expensive since the lights and fans need to be on all night in the ward. In case any monk has to go to the hospital (Three are currently being treated there.), the monastery has to call a three-wheeler.

Images in the Vihara

Anatapindika

Sasa Jataka

Jataka

Alavaka
We had been at the monastery for about an hour and wondered why the Malaysians had not yet arrived. At last, they called and informed us that they were lost, so we arranged to meet them on the main road. Our guide described the turn-off, and they were waiting there. We advised them that the road was too narrow for the two big buses, so they transferred their considerable dana to Jagath's van, which could carry two or three representatives to the monastery. We only had a few minutes to talk, but it was good to meet Hoon again after twenty-two years and to see all the wonderful, useful gifts they were taking in.


We will meet the group again when they come to Kandy.

The Buddha and the Sick Monk

Now at that time a certain monk was suffering from dysentery and lay where he had fallen in his own excrement. The Buddha and Ananda were visiting the lodgings, and they came to where the sick monk. "Monk, what is wrong with you?" the Buddha asked.

"I have dysentery, Venerable Sir."

"Is there no one to look after you?"

"No, Venerable Sir."

"Then why don't the other monks look after you?"

"Because I am of no use to them."

Then the Buddha said to Ananda; "Go and fetch water and we will wash this monk." Ananda brought water, and the Buddha poured it while Ananda washed the monk all over. Then, taking the monk by the head and feet, they carried him and laid him on a bed.

Later, the Buddha called the monks together and asked them; "Why did you not look after that sick monk?"

"Because he was of no use to us."

"Monks, you have no mother or father to take care of you. If you do not look after each other, who else will? He who would nurse me, let him nurse the sick."
If anyone would like to join us in assisting this noble monastery, the only one of its kind in Sri Lanka, we invite you to send your donations, indicating "Elder Monks care."