As from a Heap of Flowers, January 31, 2011


By early January, we'd had several months of torrential rains and devastating floods. Earthslips had destroyed houses in Kandy with considerable loss of life, including one whole family crushed by a boulder near the river. Some roads were washed away; our tunnel was closed when a portion of mountain, complete with huge trees, came down and blocked the entrance. Those roads still open were rutted and potholed, so that even slow travel was bone jarring. The cold temperatures were another first. We were sleeping under wool blankets and wearing long-sleeved shirts and jackets that we hadn't used since we left Michigan.


When we went to the airport to pick up Matt and Deena, an American couple, retired social workers, students of Bhikkhu Bodhi, and Buddhist Global Relief volunteers, we were still wearing warm clothes. We left early in order to shop on the way down for mats, clay cooking pots, and pineapples for Lily's fabulous curry, but, mainly, we wanted extra time in case of earthslips and to avoid speeding on rough roads.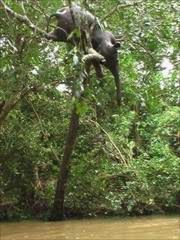 Matt and Deena were flying all the way to Sri Lanka to volunteer for the two-week intensive. Deena said that they'd come on a whim, and we could only agree that it was one heck of a whim! They'd asked us in SKYPE calls what to wear and what kind of weather to expect. We had to admit that we didn't have a clue what was going to happen. There was extreme weather all over the island; we read that there was such massive flooding in Polunnaruwa that the rock images of the Buddha were completely submerged. The papers had photos of the body of a baby elephant that had been swept away and left 18 feet up in the branches of a jungle tree! On the way back to Kandy, the rain was so heavy at some points that there was no visibility at all, and we were glad that Chanda was driving. It was a relief when we arrived safely.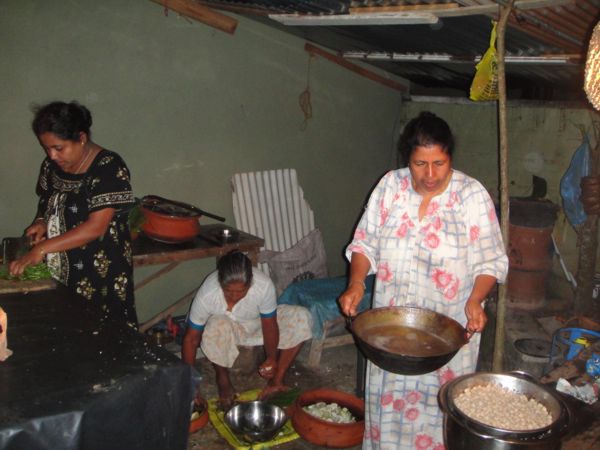 This year, because of the threat of heavy rains (and monkeys), Lily completely reorganized the cooking area. She had a carpenter put a roof over the walled "courtyard" (That's a joke!) outside our bedroom window and shelves and workcounters for both that area and the storeroom. Last year, the rice had been cooked over a rude wood fire, and the smoke had driven us out of our bedroom to the guestroom. This year, Lal occupied that room during the course. In keeping with the other improvements, we invested in a new (smokeless) three-ring gas burner on a stand and a huge stainless steel pot for cooking rice. (We don't like aluminum!)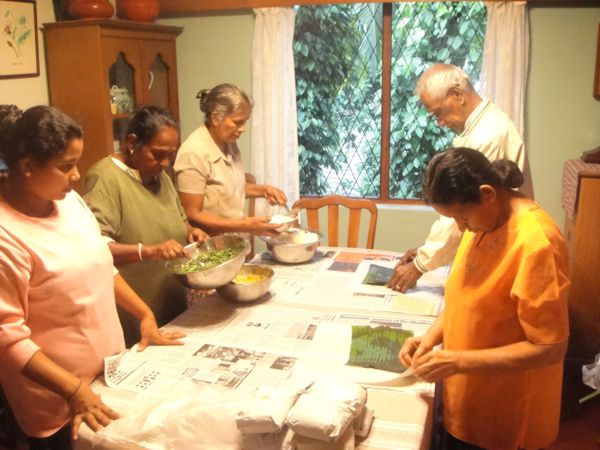 Lily did all the shopping this year, finding the best prices for rice, dahl and vegetables in the wholesale stores downtown. That was essential, given the alarming rise in food prices (because of the rains?). Every evening, the cooks cleaned the rice, chopped the vegetables, and retired to the library at about ten o'clock. By three AM, they were up and quietly cooking and huddling around the stoves for warmth. As soon as we finished breakfast, Charles and Manel set up their operation and began wrapping lunch packets on the dining table. This year, Lily tried to make the lunches more Burmese, with more oil in everything. Every other day, the lunch was garnished with fried peanuts, which were a real hit!


The students were about thirty Burmese monks, staying at the Burmese Rest downtown, plus a Vietnamese monk who spoke Burmese and two Sri Lankan monks. The course was truly intensive--fourteen days, six hours of class per day, for a total of 84 contact hours for each student.
| | |
| --- | --- |
| | |
| Click the photo for more photos of the students. | |
| | |
Of course, the monks also used English during the breaks (playing Buddhist Knowledge Quest and Buddhist "Go Fish," chatting with teachers, or working on homework). Once again, we used 10 Steps, the controlled writing course, and the students loved it. Some were able to reach Step 7, and many, trying to keep up their momentum, are continuing by email.


Click either photo to view a six-minute slide-show video of the dana.
Offering dana every day of the course was a great joy. As before, the monks were summoned by Ken's loud "Bong!" three times. (We really need to get a proper gong.) This year, we offered the Buddha puja daily, and, before asking the monks to chant paritta and anumodana, Ven. Vilasagga, the coordinator, always announced the names of the donors and explained any special requests they had.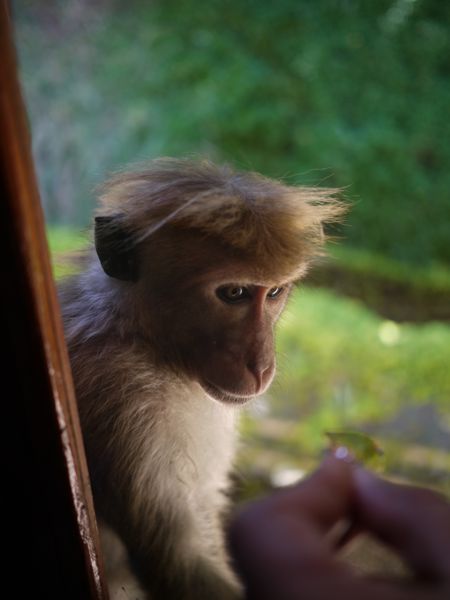 Those who generously contributed should also know that the abbot of the Burmese Temple asked for their names, as well, and Pattana was chanted for the well being of them and their families. There were always some lunch packets to spare, even after our driver and BPS friends had eaten, so extras were given to the poor and homeless in Kandy. Sadhu! Sadhu!! Sadhu!!! One day, after lunch, a bag of tasty sugar wafers was snatched right off the teachers' table by a particularly daring Macaque. At least, he didn't take anybody's camera!


Deena and Matt each took one class and conducted various activities for building confidence in public speaking. Matt also helped the students understand root words and prefixes, which is so beneficial to second-language learners.
On the last day, Deena asked the students to explain Dependent Origination, using the Burmese poster we had printed so many years ago. That was challenging to the students and informative to her.


Before the intensive, Lal labored mightily at the Open University where he teaches and on his grad studies at Peradeniya University to free up a solid block of time to devote to the monks. He offered the more advanced group a compact module on academic writing. As usual, the monks were as impressed by his teaching methods as they were with the contents, and the results spoke volumes about his skill and dedication.


Just before classes began and just after we'd bought a new cartridge, our dependable HP Laserjet duplex printer (ten years old) started sputtering and working erratically. We absolutely had to have a good printer for all the handouts for the students, so we asked the manager of the stationery store downtown, and he found a duplex Canon printer within two hours. This baby is so smart that it refuses to print if the document is formatted to a paper size different from that which is loaded. It does everything but proofread and staple the final product. May it last for many more intensives!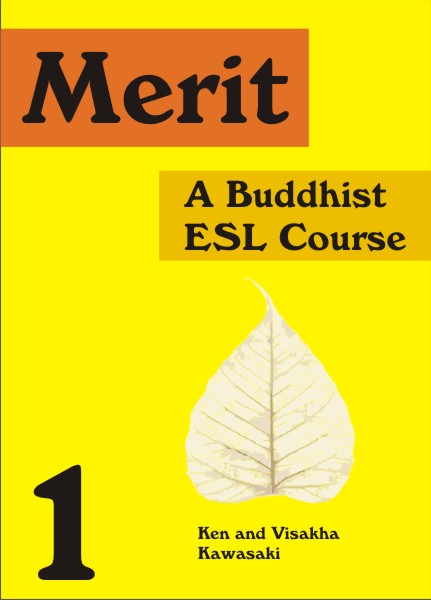 For the first week, while Lal was teaching at the other end of the big hall, we used Merit, our new Buddhist ESL text--a work in progress--with our group, with considerable satisfaction. When we asked the students, however, whether they wanted to continue that text or read Jatakas, they voted resoundingly for the latter. (Democracy rules!)
| | |
| --- | --- |
| | |
| Click the photo to see more photos of the classes. | |
| | |
Thus, for the second week, we put the classes together and read five Jatakas. Almost every student had bought a copy of our book, but we didn't want their personal copies marked up, so we printed the stories with ample margins for their notes. We also created rudimentary worksheets for vocabulary and review. Although the monks are very familiar with the stories of the Jatakas, they really enjoyed reading them in English. The comments and discussions which these stories generated were quite stimulating, raising important Dhamma questions.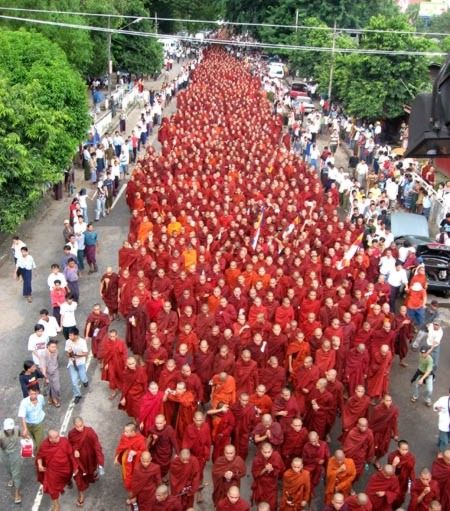 Our old friend Jason had visited Kandy just a year ago, in time for the final day of the Second Intensive. He couldn't come this year, but he sent us a very special gift--a copy of the documentary, "Burma VJ," which we could show to Lal, Matt, and Deena, and lend to the students as well (some of whom had taken part in those inspiring, non-violent rallies in Rangoon.)

| | |
| --- | --- |
| | |
| Click this or any of the next four photos to see more photos of the outings. | |
| | |
For the first Thursday afternoon activity (The BPS hall is used for meditation on that day.), we gave out worksheets with questions about the Dalada Maligawa and its environs and sent everyone off to explore in groups. Happily, the weather was better by then, and the essays which the students wrote afterwards showed their keen interest and sharp observational skills. This year, we also arranged two other excursions.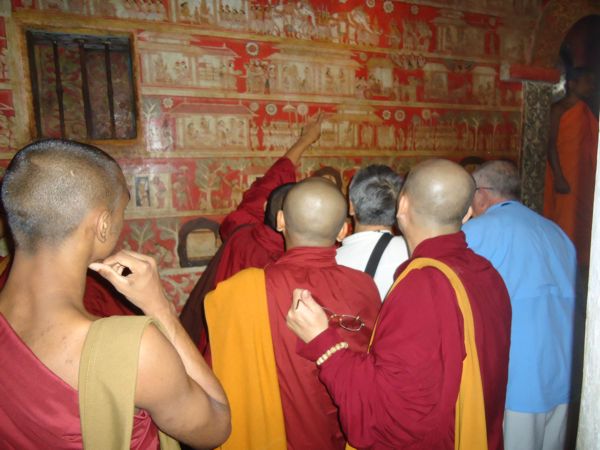 On one day, we rented a bus and visited temples around Kandy. In the morning, we went to Degoldoruwa, the cave temple with beautiful paintings of the Jatakas. After lunch at BPS, we went Gadaladeniya and Lankatillaka, both built in 1344. We were impressed at how much the students discussed together in English and explained to us, particularly to Matt and Deena, to whom, of course, everything was new and wonderful.
After the last temple, we brought everyone to our house for juice. We wanted the monks to meet our friends who were daily preparing their lunches. We also wanted them to know where we live, so that they can visit whenever they come to Kandy.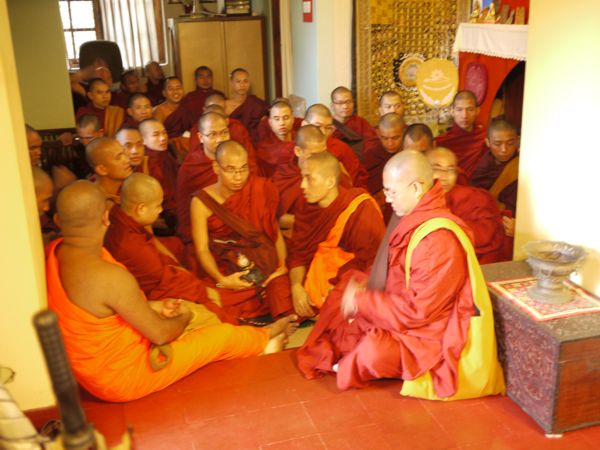 We were delighted when, just before they left, they filled up the space in front of our altar to chant paritta for us, the cooks, and the lunch packers. It was the largest group of monks we had ever had in the house, and it brought tears to the eyes!


On the second Thursday, the US Embassy gave us a special showing of the classic American movie, "To Kill a Mockingbird," in the American Corner, which comfortably accommodated the whole group. The day before, we reviewed the setting, plot, and principal characters of the story. Fortunately, Ken could pause the movie at will to make sure the monks were understanding crucial developments in the film. It was a hit! Great thanks to the American Corner! We were able to follow the movie with "Candala Champion," a Jataka story with similar themes--prejudice, discrimination, human rights, and injustice--which raised lively discussions of those topics.


Toward the end of the Intensive, an American monk, Ven. Upatissa, came up from his monastery in Ja-Ela to offer a workshop to each class on counseling. He demonstrated techniques in active listening and, with role playing, gave the students practice in showing empathy to devotees when they need to talk about problems in their lives. Matt and Deena, with their social work backgrounds, took part in the sessions, too. Ven. Upatissa made an especially meaningful addition to the course which was much appreciated.


Back in the States, Deena wrote her assessment: "This was, hands down, one of the best experiences of my life, and I think Matt would agree. We look forward to seeing you next year…. I do have more respect for teachers now. I never realized how much effort it takes to keep 20 people engaged and to keep them moving forward."


| | |
| --- | --- |
| | |
| Click the photo to see photos of the opening and closng ceremonies. | |
| | |
When the dust had settled, all the chairs returned, and all the evaluations collected, Ken settled the accounts and discovered that Buddhist Relief Mission had received 153,000 SL rupees. Expenses, including food and transportation, came to 152,000 rupees. (That's a difference of only US$10! No fudge!) Sincere thanks to the Buddhist Publication Society for allowing us the use of their big hall, and for donating copies of three new Dhamma books to each student; to Subodharama and Vajirarama for lending us chairs; to the teachers for their time, energy, and creativity; and especially to all the donors for their kind generosity. Our student monks were able to enjoy nutritious meals while they studied English and the Dhamma in English, and that is much merit to you.



For us, this course is yet another beginning. We hope to be working with and learning from these monks and their friends for many more years. We always say that we're the luckiest people we know!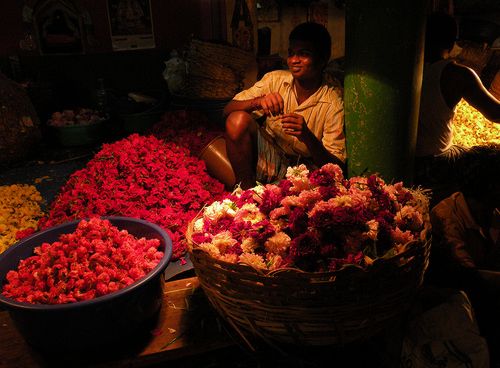 As from a great heap of flowers many garlands can be made,
Even so should many good deeds be done by one born a mortal.

--Dhammapada 53