Dana-salas and a washing machine, June 25, 2010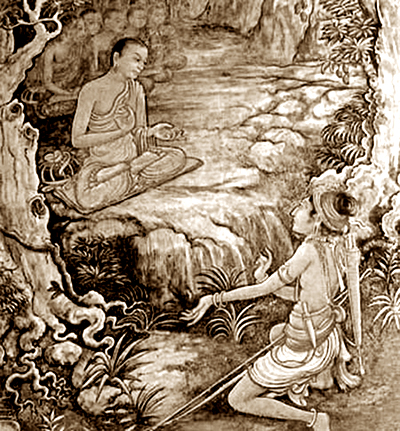 It was the Poson full-moon day, and we had a mission.


Thousands upon thousands of Sri Lankans had already started moving north to Anuradapura and Minhintale where enormous groups of pilgrims in white would pay their respects to the sacred sites. Minhintale is where Emperor Ashoka's son, Ven. Mahinda, met King Devanampiyatissa in the third century BCE. He interrupted the king's deer hunt and taught the Buddha's message, and the rest, as they say, is history.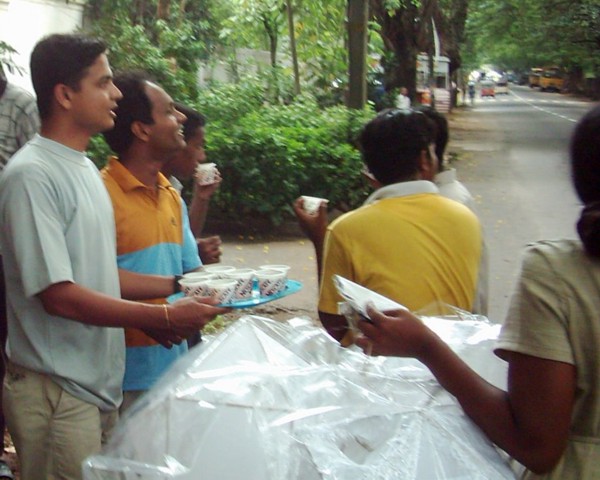 The roads were crowded with bikes, three-wheelers, vans, cars, buses, and trucks. For this holiday, instead of ordinary cargo, the trucks carried people. Every one was crammed to the max--some people sat on mats on the truck bed; some occupied chairs and benches; and some stood. The sun was hot. A sudden shower brought out a bunch of umbrellas in the back of an open truck, but, through it all, everyone continued smiling. Making the traffic even more chaotic were the dana-salas, announced by boys who stood in the middle of the road and enthusiastically waved Buddhist flags, inviting people to stop for ice cream, a free beverage, a snack, or even a meal. Without signaling, a bus pulled over on the spur of the moment, and passengers piled out to sample the treats and to stretch their legs. Parked vehicles lined the highway, and people queued up in front of stalls or were served by volunteers with trays of drinks. Anywhere else, this would have been a noisy affair, but the Sinhalese are a quiet bunch, so there was neither shouting nor loud music. People of all ages walked around licking ice cream cones and nibbling snacks from banana leaf bowls. We saw nothing but smiles the whole way.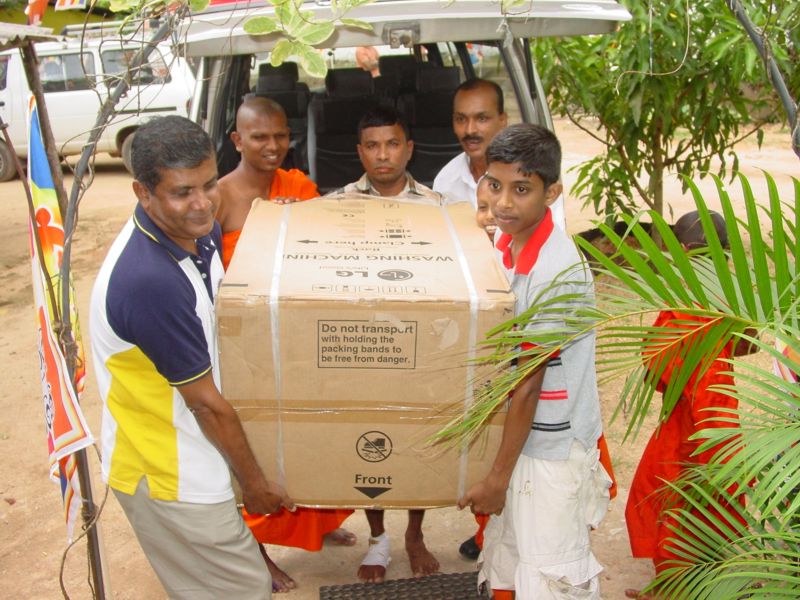 Our mission, however, had nothing to do with Poson. After weeks of comparison shopping and haggling at various shops in Kandy, we'd finally bought the automatic washing machine for Ven. Amilasiri's monastery for elderly monks. (The price was one hundred dollars less than the original quote.) We had chosen the full-moon day to deliver it because our friend Duminda had told us that his Lions Club was going to Kurunegala to donate specs that day, and he wanted to join us at Bodhirukaramaya afterward. The choice seemed auspicious also in that several other friends from Colombo would be free for the holiday. Unfortunately, because of a rugby match in Kandy, all the seats on the train were booked, and they couldn't make it.
Thus, although the van was loaded with the washing machine, boxes of laundry soap, sacks of coconuts and rice, tins of biscuits, bottles of oil, and many kilos of vegetables, the only passengers besides us were our neighbors Charles and Manel. Lily had packed our tiffin carrier, and we planned to have lunch with Charles' and Manel's friends in Kurunegala, who would be joining our donation. This, of course, was the same house where the wind had blown down the tree in April. After a short rest, pleasant conversation, and a delicious meal, we all headed to the temple. Along the way, because of the many dana-salas, traffic from Colombo frequently came to a complete halt. About one o'clock, Duminda called to let us know that due to the congestion his group hadn't even gotten to Kurunegala.
We reached Bodhirukaramaya with no problem, but Ven. Amilasiri was not there. He had been called away to give a sermon at another temple. Although he had insisted to his hosts that he had to be back at his temple to meet us at two, he had not managed to return by three.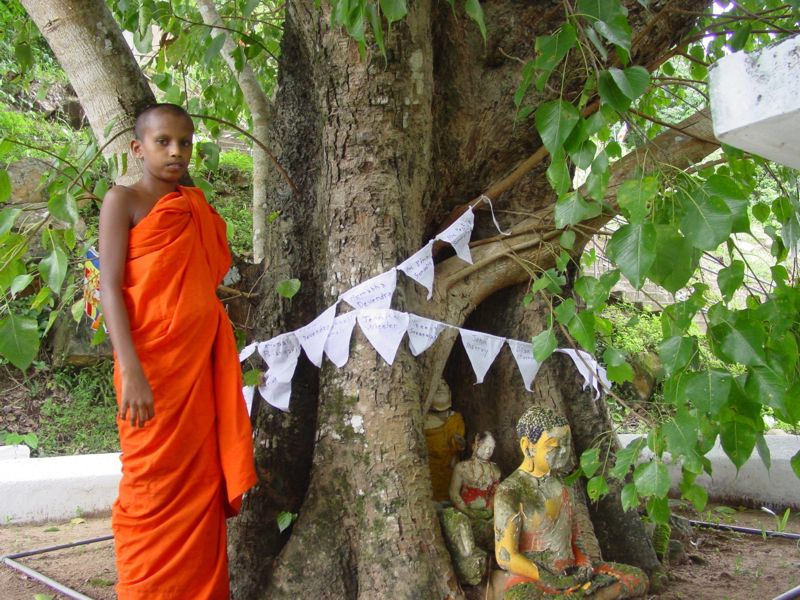 We had prepared a banner with the names of all the donors, so we asked one of the novices to wrap it around the great Bodhi tree. It was a lovely sight, and our hearts were happy as we silently circumambulated the tree.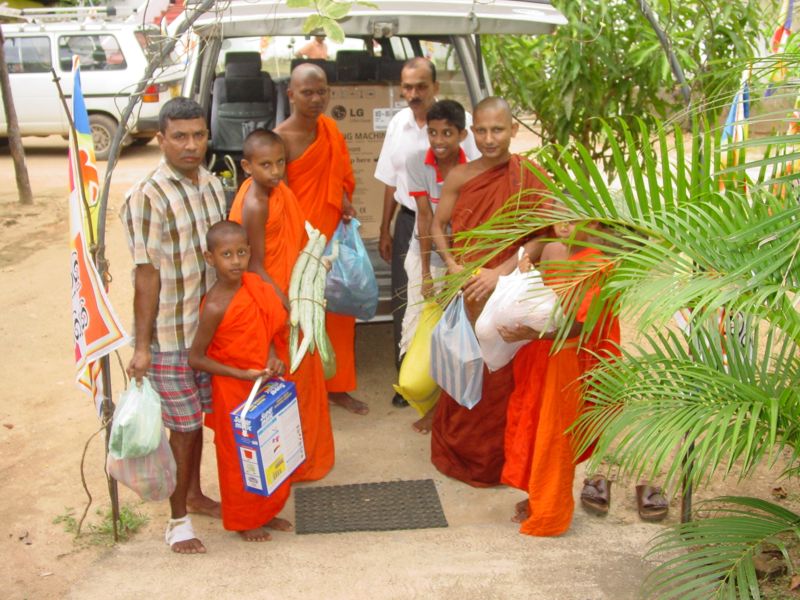 There were some Catholic laypeople, relatives of the girl to whom Ven. Amilasiri had donated a kidney several years ago, waiting to talk with him, so we decided not to stay longer. We unloaded all the dana. The food was carried to the kitchen, and the washing machine was put on the porch. We briefly explained its use and the warranty to the young monks and reviewed with them the list of donors, pointing out that some were sharing merit with their departed relatives and that one woman in Colombo had made her offerings on behalf of her mother who was in a coma.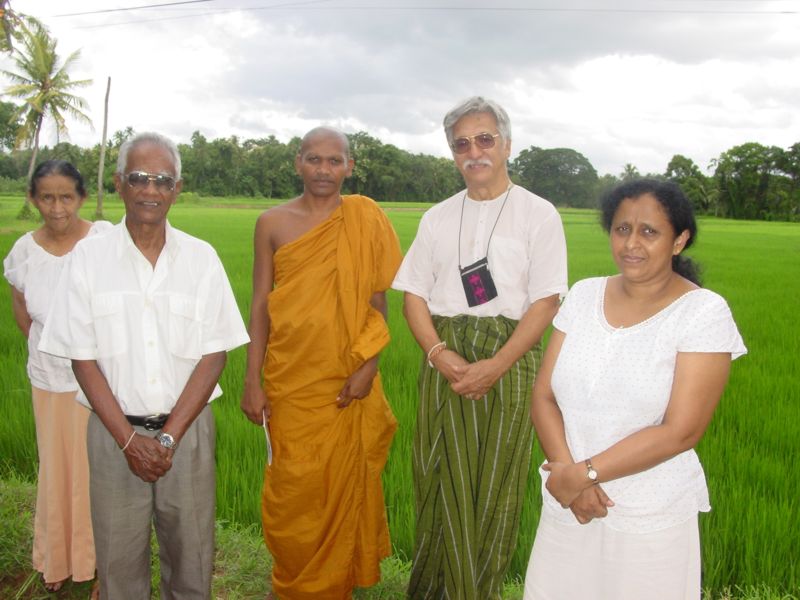 Before we reached the main road, we met Ven. Amilasiri's van. He had been delayed by traffic jams. Surrounded by lush ricefields, we paid our respects. We explained what we had done and told him that the remainder of the donations would be deposited in the monastery bank account to be used for building the new residence for the novices.
About this time, we got another call from Duminda, informing us that the Lions Club had just finished their activities at the other temple and wondering whether we were still at Bodhirukaramaya. We replied that we had left and suggested that, given the traffic, they not try to stop there. (At 9:30 PM, Duminda called to let us know that the group had not yet reached Colombo, so we realized that, had they indeed gone to Bodhirukaramaya, they might not have gotten back until midnight.)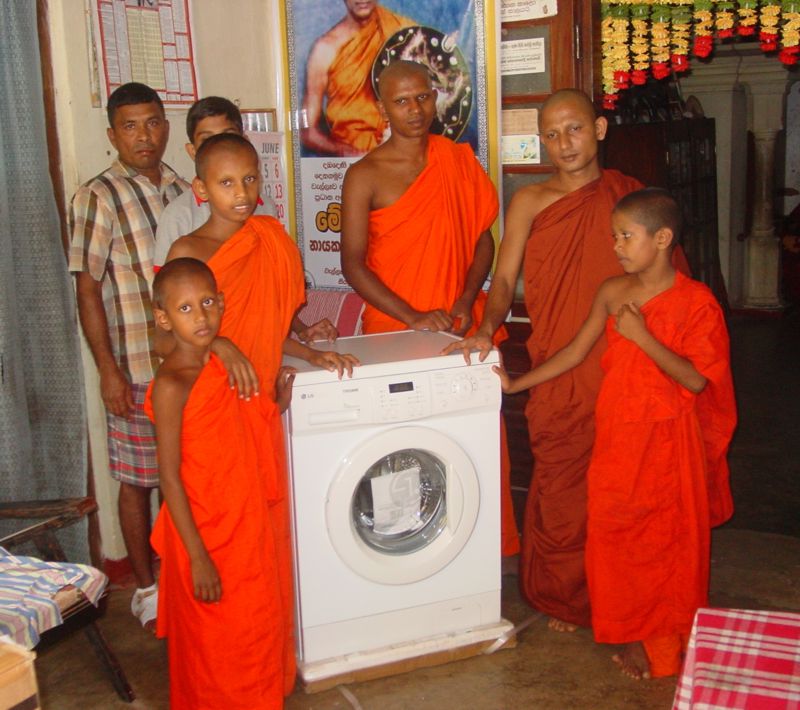 On the way back to Kandy, we passed two colorful
peraheras
, with dancers and drummers in costumes. All along the way, the innumerable
dana-salas
were still giving out food and drink. In the fading light, we saw many devotees dressed in white--elderly women, parents carrying children, a grandmother and her grandchild hand in hand--making their way home after a quiet day observing precepts and meditating at their local monastery.
We were pleased that our mission had been accomplished and happy to have seen great generosity and kindliness on this Poson full moon day. Sadhu! Sadhu!! Sadhu!!!
DANA SUTTA (excerpt)

Before giving, one is glad;
while giving, the mind is bright and clear;
and having given, one is gratified.
This is the meritorious donor.

Giving to those restrained and leading the holy life--
free of passion, free of aversion,
free of delusion, and without agitation.
This is the meritorious recipient.

Having bathed oneself
and given with one's own hands,
because of oneself and of the other,
the donation yields great merit.

Having given thus,
a wise person of conviction,
with mind released from sorrow,
reappears in a world of perfect bliss.
--Anguttara Nikaya 6.37