Kandy, Kolombo, Kolkata, September 19, 2010
Click to buy a signed copy
Jataka Tales of the Buddha: An anthology, has gotten a warm reception worldwide. Ken has figured out the postal system, studied the best way to wrap the three-book boxed set, and calculated the postage. We have also found the friendliest post office around, so we don't have the hassle of trips to the Central PO and arguments with the various staff there where the right hand knoweth not what the left Oketh. In short, mailing these book parcels is convenient, and, because the couple who run the sub-post office are so nice, a pleasure as well.

We cringe when people ask how long we worked on the book. We started about 25 years ago, but, of course, we weren't able to work on it intensively until we moved to Kandy. While we were in Japan, we were working full time and also doing fund-raising and refugee relief work in Thailand in our spare time. In the US, we were taking care of Visakha's mother 24/7 until she passed away. The really hard work has been done here in Kandy, where conditions are pretty much optimal.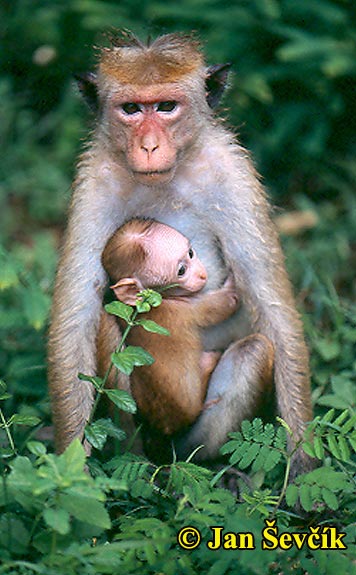 No Asian can walk by our house and ignore the towering durian tree just over the wall. Their eyes are pulled toward its branches to look for flowers or to count fruit. The carpenter and masons working around the compound always walk eyes right, checking on the tree.
When a spiky fruit falls with a thud, soneone always seems to be ready for a quick foray to the other side of the wall before the watcher notices. This happened so often that the owner decided to extend the wall all the way to the bottom of the ravine. The wall may foil the carpenters, but it won't have any effect on the Macaques, and the fruit they eat is nothing compared to the durians they tear open and throw down. After a typical morning raid, the whole monkey troop adjourns to the Kawasaki roof and begin serious dining. After they've finished each creamy section, the seeds come raining down. Then they look around for dessert–laundry powder, papaya leaves, bananas, the leaves of some lovely potted flowers on the wall. At last, they scurry along the electrical wires, babies holding tight, and disappear.
We ourselves have never actually seen the midnight raiders who tear up our small garden. At irregular intervals we find that wild pigs have gotten in somehow and rooted around (looking for worms or roots?) and trampled what they haven't eaten. We've heard them but have never had a confrontation. One morning, almost every part of our garden had been dug up. Anthuriums, coleus, and cannas were completely uprooted, and many pots were knocked over and broken. It seems that someone had come into the compound a little after dark and had left the gate open for a couple of hours. When they left, they closed the gate, without realizing that the pigs had sneaked in. Finding themselves trapped, the sow and her piglets wreaked havoc. Early the next morning, they were discovered at the bottom of the hill (near the abandoned well which was recently filled to prevent animals from falling in) and captured in a snapshot. When the gate was opened, the pig family quickly exited in single file, heading off to wherever it is they spend their days. Another nocturnal visitor is the porcupine who seems to daintily nibble leaves and waddle around shedding hollow quills here and there.
Our room

The pool
The Burmese monks in Sri Lanka are very keen on the Jatakas, so we weren't surprised when one of them staying at Makutarama, the Burmese monastery in Maradana, Colombo, asked for 25 sets, which he was sure would sell within a few months. We were going to Colombo, but 50 kilos by train would be impossible for us to manage. We checked on postage, and discovered that it costs considerably more to send 50 kilos of books to Colombo than it does to send them to Thailand. The cost of that domestic postage would be the same as taking a van to Colombo. Add the cost of three-wheelers at both ends and train tickets for two, and, voila, the van becomes cheaper. No contest. Our van went directly to the monastery, where we delivered the books, met the monks, and had delicious Shan tea and snacks. Then we continued with no hassle to the Colombo Hilton for our three-day holiday, compliments of Hilton Honor Points. Being gold members, we were upgraded to Executive, with an ocean-view room, fruit every day, complimentary breakfast in the Executive lounge, coffee and canapes all afternoon, and free wireless internet in the room. Our only expense at the hotel for the three days was $11 for a pizza Friday evening at the poolside, and, because it was "Happy Hour," we got a second pizza free. (This morning, we received a message that all 25 books have been sold!)

We went down to Colombo on Friday so that we would have one day before the weekend for business. Our first stop was Lakehouse Bookshop, which bought five sets of Jataka Tales. Two years ago, we had placed in Lakehouse both our DVD, Strive on with Diligence, and the game, Buddhist Knowledge Quest, so we were able to follow up on that, and replace what had been sold. We also sold two sets of Jataka Tales to Barefoot Books, which is part of an exclusive gallery in Colombo. At least two of the large chain bookstores have arranged for their Kandy branches to get the books directly from BPS. On a whim, we took a copy to Zam Books in the Hilton, and the manager agreed to take three sets.
Vivimarie
Click for article
Having finished our business, we had nothing to do but enjoy ourselves and meet friends. Saturday night, Lal and Vivi invited us for a delicious north Indian dinner at Mathura Restaurant, which was new to us but a favorite of theirs. On Sunday, Ranga and Duminda brought their two children to the hotel, and we had a great time in the pool in the early afternoon. Ganga (Ranga's twin sister) had wanted to come at the same time, but she was offering lunch to several monks in memory of a relative, so she and Ravi came in the evening with a large party, including a slew of kids from 12 years to 8 months! We cheerfully served open-face peanut butter and marmalade sandwiches on crusty bread from the Hilton bakery and steamed broccoli and carrots, which we had carried down for ourselves, not knowing that we were being upgraded. Both kids and adults devoured the impromptu picnic fare and returned for seconds (and thirds!).
| | |
| --- | --- |
| | |
| Click for photos and a description of the launch | |
| | |
After three nights of luxury and relaxation, we took the afternoon train back to Kandy. Lal had completed his meetings with his Open University colleagues and was waiting at the house. He was not only the Master of Ceremonies for the book launch on Wednesday, but also the expert and organizer. He and Vivi have published several books each (Vivi's first book of poetry was awarded the prestigious Gratien Prize.), so he knows the whole routine. We had already reserved the small ball room at the Queen's Hotel and sent out invitations, but we were complete neophytes.
Lily's daughter is a talented artist, so when we learned we needed a banner, we asked her to paint it rather than just have it done in a shop. She locked herself in the library, or rather locked Nezumi out of the library for two days, and the result was a work of art!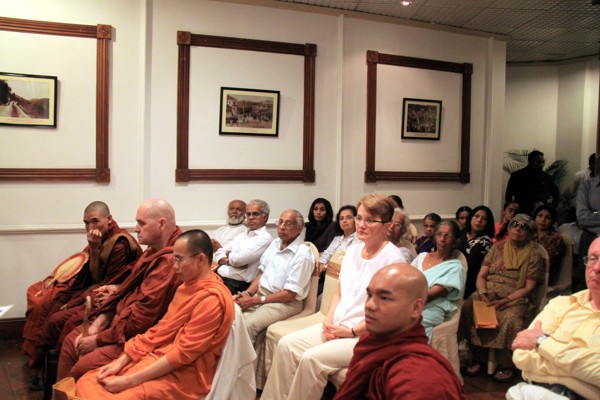 Manel and Savithri had many suggestions of people to be invited. Lal had told us that, if we invited fifty people, about thirty would attend. The Lake View Room is big enough for about fifty people, and we invited about one hundred, but, even though we had indicated RSVP, we had no idea how many guests would actually show up. The hotel was providing tea, veggie puff pastries, and butter cake for fifty; Lily made about fifty vegetarian cutlets; and Ken stirred up American no-bake chocolate, peanut butter, and oatmeal cookies for about one hundred. For the monks, Visakha made three jars of beautiful catumadu, and we supplied a bottle of fruit juice.
Some years ago, we picked up a fascinating book, Psychiatric Aspects of the Jataka Stories, by Dr. D. V. J. Harischandra which we enjoyed very much. We knew that the author lived in Galle (very far south), that he had spent many years practicing psychiatry in the UK, and that he used Jataka stories in psycho-dramas to treat his patients. If we could have anyone to be the keynote speaker, he would be our first choice! When confronted with a challenge, Ken did what he always does – hit the computer. He found the hospital where Dr. Harischandra practices, called, and was given his home telephone number. Ken called that number, learned that he was in Colombo, and was given his cellphone number. Audaciously, Ken called him in Colombo. The doctor answered. He was between meetings, but agreed to accept a call the next morning. At that time, as soon as Ken had explained the books and made the request, the doctor accepted without hesitation. We were, to put it mildly, overwhelmed. Whenever we mentioned that the doctor was going to speak, people got really enthusiastic!
Click for an article from
The Sunday Times
The event on September 8 was a smashing success. The room was just large enough for the seventy guests who came. Lal was the perfect emcee, and the food was just right. Two comments we received were: "a model of how such things ought to be run" and "The event was pitch perfect." We were pleased. We sold about forty books that evening.

As we were getting ready for class on Friday, we could hardly believe that it had been a week since we left for Colombo. The seven days seemed to have flown by, but the experience was pretty heady. For the last few days, Ken has been busy ferreting out addresses for university libraries and religion departments and sending a flyer to all he could find. We have already received two positive responses, and we expect many more. We have also received a request for review copies from Shambala Sun, and Dr. Harischandra has kindly agreed to review it for Sri Lankan newspapers. We would be delighted to send a complimentary review copy to anyone who would like to review it for any other publication.. It has already been featured on two blogs: Ven. S. Dhammika's "Dhamma Musings" and Ven. Anandajoti's "Dharma Records" as Review and Jataka.

Next month, we fly to Thailand. We will be promoting the book there, as well. We hope to get it in several bookstores in Bangkok and Chiang Mai. Of course, we look forward to seeing lots of old friends, too.
Please help him

Click each image for more information
Photo credits:
macaque: http://www.sevcikphoto.com/macaca_sinica_1.jpg.html
porcupine: http://www.imagelanka.com/gallery/fullimage.php?image=309