Planet SOS, September 21, 2019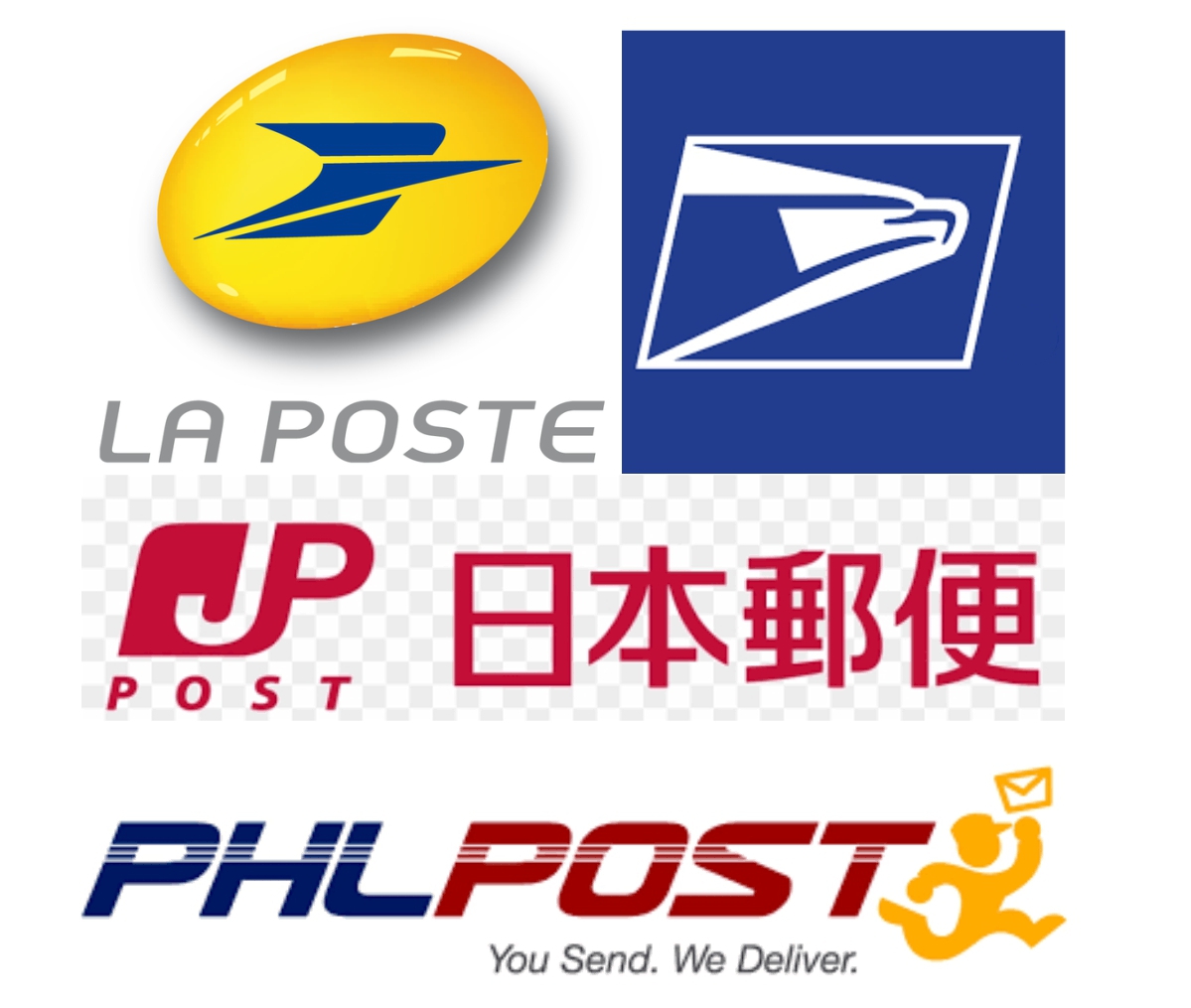 Letters, mail, the postal service, and stamps have always been important to us. We love post offices! While Visakha served in the Peace Corps in the Philippines in the sixties, she received innumerable letters and packages from home in Baroy and Marawi. Once, her mother sent her some clip-on sunglasses, cleverly packed in popcorn--real popcorn--which, somewhere along the way, was eaten by real mice. Nevertheless, the sunglasses, rattling in the box, were safely delivered to her, thanks to the efficient international postal system! During Ken's year in France, he depended entirely on the postal system to keep in touch with his family. When he visited Wesleyan upon his return, he learned that, if he had not mailed a letter to the university asking for a leave of absence (which was never answered) he would not have been accepted for readmission. In Japan, we listened for the postman almost every day. We would immediately recognize the squeal of his bicycle braking and run to see what he had brought.

Digital Aet by Shanali Perera
www.changinglanes.me
FB Changing Lanes- Healing With Art
Most of our mail nowadays is email, so imagine our pleasure as we received this delightful card from Justin who returned to the US at the end of August!


In Japan, our house in Kashihara, was almost next door to a tiny local post office. When we first moved there, that office could not even register a letter, let alone handle an international money transfer. As soon as the postmaster learned of the activities of Buddhist Relief Mission and Burmese Relief Center--Japan, however, he managed to upgrade the facility so that he could do both for us. He became a close friend and a strong supporter of our work.


As we traveled back to the US from Japan from Oct 1978 to Oct 1979, we visited a myriad of post offices, large and small, to check Poste Restante for letters from family and friends. We arranged SERVAS visits in each country by mail, enclosing in each letter an international reply coupon honored by the Universal Postal Union, so that each host could easily respond to our request c/o Poste Restante. To lighten our backpacks, we posted innumerable newspapers, books, and gifts to the States from even the remotest sites. Being serious photographers, we used Ektachrome and Kodachrome film almost exclusively, for more than four thousand slides. Most of the rolls were mailed directly to Kodak for developing and sent to our address in Texas. In all of that posting, we never lost a thing!

In this set of 100 commemorative Sri Lankan stamps, every stamp is different.
Click to enlarge.
In our classes at Seifu Gakuen in Osaka, we often played games, in which the prizes were used international stamps. We had plenty of these from the letters we received from family and SERVAS friends around the world. The biggest collection, however, came from Thailand, thanks to the pris'niy klang, the Central Post Office in Bangkok. Each summer, in Thailand, we purchased tons of handicraft, mostly refugee-made, to sell in Japan to raise money for the students and refugees. Just before we left Bangkok, we always took all of this craft, to the post office and asked the friendly attendant in the packing center to pack it in large boxes, which we then carried to the service window, where the clerk weighed it and figured the cost of postage. Then we went to the philatelic counter to buy beautiful stamps in small denominations. In the middle of the lobby, we carefully covered every side of each box with hundreds of stamps. It became a tradition, and the clerks who remembered us greeted us warmly and joined in the fun.


All of this was possible because of the cooperation of post offices around the world. Among the many dastardly things Trump is doing is withdrawing from the world's second oldest international organization, The Universal Postal Union (UPU), which was established by the Treaty of Bern of 1874. In October 2018, the Trump administration claimed that the UPU regulations gave unfair advantage to China and declared that, unless the rules were drastically changed, the US would pull out of the UPU on October 17, 2019. If that happens, and the date is rapidly approaching, the US Government will have to make a separate treaty with virtually every other country, or all international mail to every American resident will have to be delivered via a third country. This is just one more outrageous example of Trump ignoring diplomacy and creating chaos, which is detrimental to the United States, by demanding that the world bow to his will. Take a look at this list of the other international organizations that Trump has pulled out of and the treaties he has revoked:

| | |
| --- | --- |
| The United Nations Relief and Works Agency (UNRWA) | The United Nations Educational, Scientific and Cultural Organization (UNESCO) |
| The Iran Nuclear Deal | The United Nations Human Rights Council (UNHRC) |
| The Trans-Pacific Partnership (TPP) | The Paris Climate Agreement |
| The North American Free Trade Agreement (NAFTA) | The Arms Trade Treaty |
For details on these, see
"Trump has pulled out of international agreements before. Here's a list," by Martin Finucane and Jeremiah Manion Globe Staff, February 1, 2019
and
"Trump pulling U.S. out of U.N. arms treaty, heeding NRA," by Roberta Rampton, April 26, 2019 https://truthout.org/articles/over-1100-congregations-have-agreed-to-provide-sanctuary-to-migrants/

Republicans have long vowed to make government small enough to drown in a bathtub. Trump is trying to eliminate all international agreements and accords. Is this what it means to run government like an (unregulated) business?

We have had an Amazon seller account for about 20 years, but, over time, we've grown to loathe Amazon as a violation of all we'd like to stand for. The more we've learned of Bezos, Amazon's exploitation of its non-unionized work force, all the while paying no taxes, it's seemed the very antithesis of community and commons. Like Uber and AirB&B, Amazon symbolizes the commodification of everything--the reduction of everything to an APP. [link <>]

For about ten years, we have participated in the FBA (Fulfillment by Amazon) program. This means that we can send books to Amazon, where they are listed and sold the same as Amazon books. In addition to our own books, Buddhist Crossword Puzzles and A Pilgrim's Comapanion we've provided an outlet for friends' books --Lal's Playing Pillow Politics at MGK and Soh Lung's Beyond the Blue Gate, and Jennie's Near Future. We receive notice whenever any item is sold, and, at the end of each month, Amazon send us a remittance for the sales. Of course, Amazon keeps a part of each sale, and they charge extra for "long-term storage." Of course, Amazon makes a profit, but we profit from the access to the Amazon marketplace, and it is easy to sell books.

During the ten years that we have been in this program, we have sent many parcels of books to Amazon from our friendly Kandy Post Office. Since Amazon normally expects that a parcel will arrive at their warehouse a few days after it is posted, we have repeatedly explained that, since our parcels are being sent SEA MAIL from Sri Lanka, delivery may take two months or more. This had never been a problem before.

In June 2019, we sent two parcels, one of 4.5 kg (Buddhist Crossword Puzzles) and the other of 27 kg (Jataka Tales of the Buddha). Though sent about one week apart, they left Colombo on the same day. The smaller one, though posted later, arrived in California earlier. It was processed, and the books are available on the Amazon site. On our seller account website, we are able to track the progress of each shipment, and we learned that the larger parcel, containing had arrived in California at the end of June.

On July 6, this hefty parcel arrived back at the Kandy Post Office marked "Refused. Return to Sender." We immediately called Amazon Support to inquire. It was extremely difficult to get anyone to talk with us, but, finally, an agent informed us that the parcel had been refused because the shipping service (in this case, the US Post Office) had not scheduled an appointment for delivery. We told her that we have never heard of the post office making an appointment for delivery and that we had no idea that such a thing was necessary or even possible, She insisted that it was necessary, but she was never clear exactly as to who should make the appointment. At one point she seemed to be saying that, in the future, we should be sure to make such an appointment. We explained the impossibility of our scheduling any appointment for delivery from Sri Lanka. The agent was not interested in any objection we made, nor in learning that no other shipment had encountered this problem. She simply kept repeating that an appointment had to be made, Without an appointment, any shipment would be refused. We informed her that, if that were indeed the case, we wold never make another shipment to Amazon, which means that, when our current stock is sold, we will no longer be selling anything. With that, we ended the call.

For the parcel which was refused, we'd paid more than 100 dollars in postage. Just as important, however, is the loss of the Amazon marketplace. When the Jataka have been in stock, we have sold at least one book a week. Amazon is one of the first places people go to find a book. No advertising on our part was necessary.

Jataka Tales of the Buddha
An Anthology

Retold by Ken and Visakha Kawasaki

Now available in the USA
for prompt delivery,
without enriching Amazon
--and $10 cheaper!
$30 - Click the icon to order
Since this fiasco, our good friend Joe has very kindly offered to help us distribute the books in the US. Thus, we will able to sell a copy without charging the enormous fee for international air mail postage. This also means, however, that we must find a way to advertise or, to enable people to find the book on our website. We have already sent him a parcel of books, and, as soon as he has them in hand, we will be able to accept orders, which will be promptly filled for delivery within a few days.

"Hunger," by Luis Quintanilla. Click to read the story behind the painting.
Several weeks ago, we received a letter from Wordcraft Publications in India, requesting permission to use our telling of "The Great Monkey King" (Mahakapi Jataka) in a new textook series to be published this month. We were surprised, delighted, and readily agreed. Several times in the past, we had received requests for permission to use some of our photographs, but this is the first for one our stories to be included in a textbook. Conversely, we have received permission to use an image we found online in our textbook, Merit: A Buddhist ESL Course. In our latest revision, we included our retelling of the Dhammapada story, "Hunger." Via Google Search, we found a powerful fresco painted by Luis Quintanilla, the great Spanish Republican artist, which perfectly fitted the verse and story. We had found the image in a collection of the artist's work, posted by his son. We encourage you to read the remarkable history of the painting.


A final word about the Jatakas and Amazon. We received notice from Amazon that one copy had been damaged in transit and thus unfit for sale. We immediately requested that they send it to the prison where Steve is confined. It is already in the library there. Here is the letter we received from Steve, showing his close reading of our last report. His insightful words brought tears to our eyes.