Meetings and Partings, April 28, 2012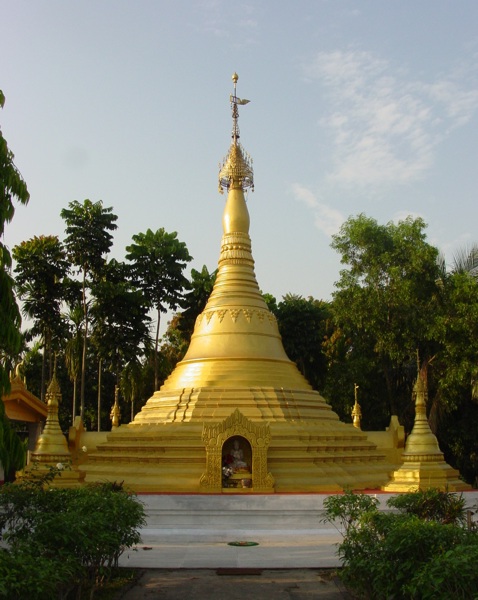 Being at Bodhisukha isn't like being in Kolkata at all. First of all, it's in a rural area, far from the city center, with mango groves, winding lanes, and ponds. Second, the monastery is Arakanese, rather than Indian. With the large number of kidney patients, their families, and donors staying there, the monastery has the atmosphere of a Burmese village. The community outside the walls is Bengali, either Hindu or Muslim, but, inside, you hear mainly Burmese spoken. The golden pagoda is a big attraction for local folks on weekends and holidays.


During the month between the pilgrimage and classes, we had intended to fly down to Bangalore for the ninetieth birthday celebration of Ven. Acharya Buddharakkhita (We had visited there in 2001.), but we became so busy at Bodhisukha that we realized that even a short trip was not practical. The first task was to put together a report of the pilgrimage. Then we worked on the website for Rajiv's and Abhijit's tour company, Peace Dove International. The biggest project by far, however, was proofreading the manuscript for the new edition of Jataka Tales of the Buddha: An Anthology, which is being published by Buddhist Cultural Centre.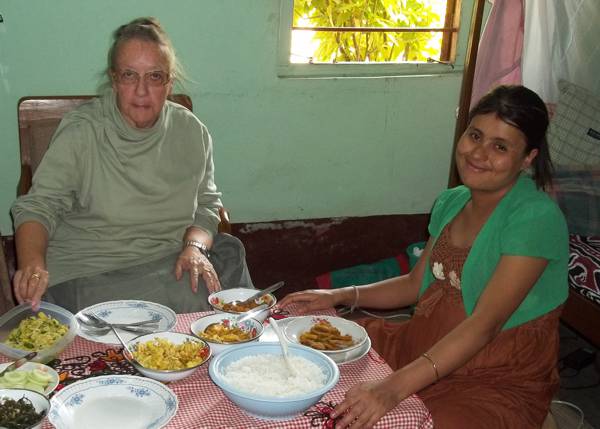 As well as work, our free month at Bodhisukha was full of baby talk, that is, talking about babies. Rajiv and Shilar visited daily. Shilar enjoyed spending time with us and with the Burmese families staying at the monastery. She also enjoyed walking around and sharing food. Meanwhile, Rajiv completely refurbished his late aunt's house so that it was ready for the baby's coming.

Spending time in the Burma Colony was enjoyable although we certainly felt Rajiv's Auntie's absence. We relished the special Bengali swad, the ritual lunch for Shilar in her nintrh month of pregnancy. She was dressed in new clothes; and female relatives, friends, and neighbors served her nine fruits, nine auspicious curries, and nine sweets, which they had spent all morning preparing. She tasted each one and then fed many neighborhood children. This was followed, of course, by a delicious lunch for everyone. It's a lovely tradition, usually reserved for women only, but, in this case, Rajiv, Abhijit, Ken, and several other men were tolerated.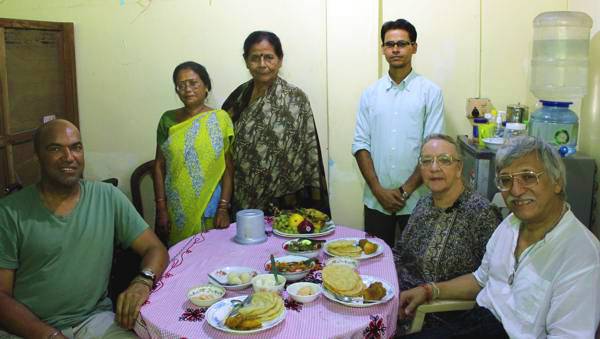 We ate very well every day, thanks to Shilar's home cooking and Kyan Tun's growing skill in the Bodhisukha kitchen. We've known him for years, but his interest in cooking really showed itself this year--and the results were very good. As our time was winding down, Bodhisukha's headmistress and staff prepared a marvelous lunch of subtle Bengali curries with light and flaky puris. This year, we had no opportunity to interact with the children, but we did leave a full set of English language computer games for the school which we know they will love.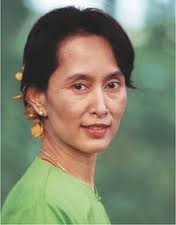 As an undercurrent, always in the background, was talk and rumor of change in Burma. We've never had much faith in a painless, beneficent transition, so we mostly kept quiet while people talked about the momentous transformations the country was undergoing. We smiled politely when they urged us to go immediately and see a democratic Burma. We certainly didn't share the supreme optimism others seemed to feel. We were delighted to see Daw Suu in the news. She's a magnificent, seasoned leader--smart, principled, and charismatic--the perfect symbol for all the best hopes for peace, justice, and democracy in Burma. Still, despite the heady rhetoric, we feel that, essentially, not enough has changed. The constitution, the military, and the mechanisms for oppression are still intact. We have never doubted the people's enthusiasm and love for the Lady, but for the NLD to turn that into real leverage for change is going to take lots of work and even more luck.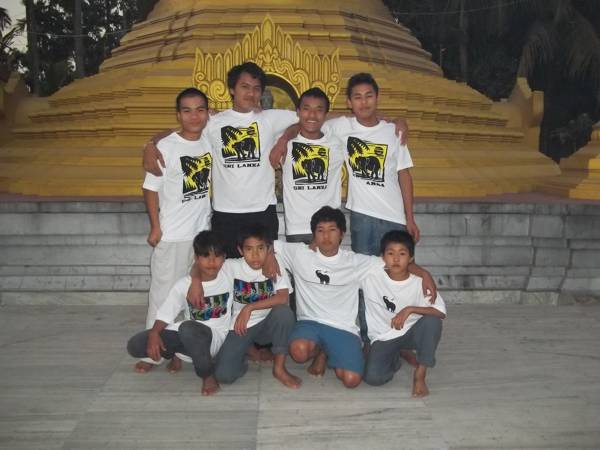 The boys, whom we've known since our first visit to Bodhisukha in 2001, discreetly mentioned that they would like us to answer some questions which they had been wanting to pose for many years, so, one evening, we invited them to our little cell of a room. They shyly asked who we were, why we came so often to Bodhisukha, and how we had become Buddhist. After answering their questions, we gently turned the tables and asked about their lives. We learned that, although they come from Buddhist families, their education has been according to the Indian (secular) curriculum. They know how to serve the monks, and they can recite the Dhammacakka Sutta in English, but they had a lot of questions about Buddhist Dhamma. We had a good discussion about important matters, including kamma and rebirth. They have read some of our Jatakas and showed us their copy of the Dhammapada, which is in very difficult English--no wonder they had trouble understanding it! We gave them copies of the two Dhammapada stories we have retold for our classes, and we realized how valuable it would be to compile an entire volume of these stories in the same way as we did the Jatakas. It was an interesting session and we felt closer to them because of it.

The printer we had bought for the monastery last year was still working like a champ, so we printed multiple copies of the texts we intended to use, but, until the last minute, we did not know how many students we'd be teaching. Magadh University and Nalanda MahaVihara Institute seem to keep their exam schedules top secret, so that students can never be sure when they will be free. In the middle of the course, most of the Nalanda students had to return to Bihar to register for exams. It is an 11-13 hour bus ride from Kolkata, and that is daunting. The registration only took an hour or so, but they were absent from class for three days. The monks from Magadh had to leave two days before the end of our course to register for their tests.

It seems that this was the last year that we will have the intensive course at Bodhisukha. There was talk of conducting a course in Buddhagaya, but nothing definite as to time of year or how to organize it. A suitable center with classrooms and accommodations does not as yet exist.

As it turned out, we had one class of about 25 students. The majority of the monks were Burmese, with a few from Bangladesh and Tripura, and many had just completed their first year of university. One student who had attended last year marveled at how much he could understand this time. He attended every lesson and activity and just seemed to soak up the English. Others, at their first exposure, seemed a little dazed and uncertain. Come to think on it, some had probably never been in a formal classroom setting before coming to India. Monks don't have regular studies in Burma. In some places, they are not permitted to do so. Because of that, they lack "general knowledge"--math, science, geography, and history--as well as English. It made for an interesting classroom mix, where nothing could be taken for granted. All of the students were agreeable and happy to be studying with us, and the boys joined the afternoon sessions as often as they could. They, of course, are quite at home in English.

A big plus was that the food was of much higher quality than in previous years– thanks to our donors and to Ven. Nandobatha's generosity. We were glad to offer fried peanuts, soy meat, tasty desserts, and fresh fruit for meals and mango and guava juice for the evening activities. For the finals in the Buddhist Knowledge Quest tournament, we served our special catumadu!

Happily, Steve was back for the third time, his popularity greater than ever. This year, it was a pleasure to have ViviMarie join us. She'd just finished her Ph.D from Ulster, so she had time to volunteer this year. Her husband, Lal, had taught with us in the Kandy intensives several times, and her friend, Dushy, had regaled her with stories about the program at Bodhisukha. This was her year, and she did herself proud. The students responded beautifully to Vivi, and, when she had to return to Colombo, her farewell ceremony included some moving speeches because she had given them great confidence and inspiration.

There is no set syllabus--each teacher does whatever he or she feels most comfortable with--but, this year, the lessons fit together nicely. One of the lessons in Merit, involved forming the adjectives for nationalities. The next day, the Bodhisukha teachers lent us a world map, and Steve and Vivi covered some basic geography. Steve developed an exercise in which the students drew maps of the whole Bodhisukha compound. Then, the students engaged in a scavenger hunt, marking on their maps the location of each object found. To help them, we printed signs with the eight directions and posted them in the classroom. For the first time, we were truly oriented.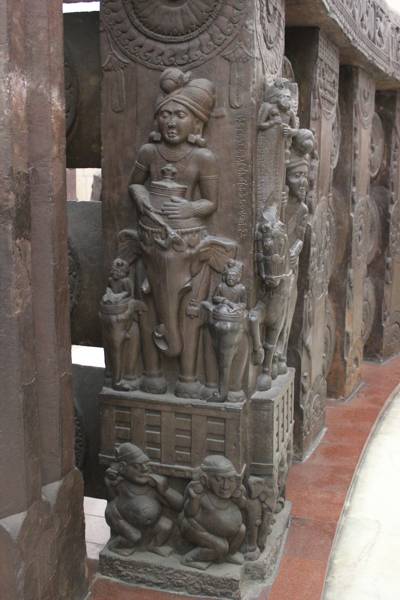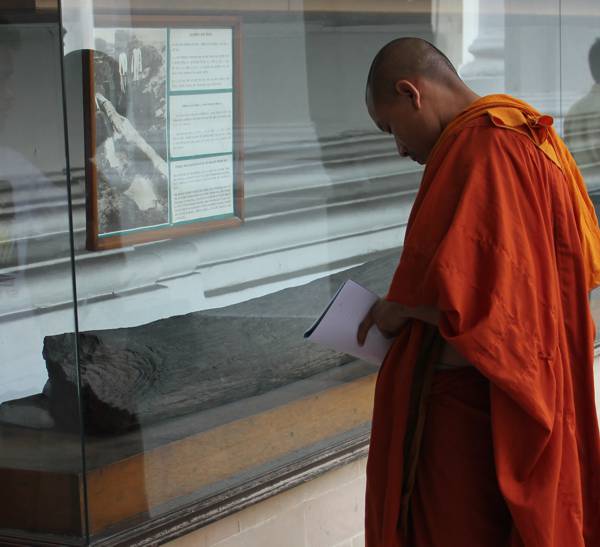 In another lesson in Merit, students matched carvings from the Bharhut Stupa railings with their descriptions. After this was covered, Ven. Nandobatha arranged for a bus to take all the students and the boys to the Indian Museum to view those selfsame carvings and the other exhibits. We created a worksheet for them to use as they roamed around the museum. Steve and Vivi joined, and it was a marvelous outing. None of the students had ever been to the museum before, and all were quite thrilled.

In Sri Lanka, we'd used Merit once a week, with larger gaps for holidays, in our pirivena classes. After teaching from it several hours everyday at Bodhisukha, we feel more than ever that, for teaching English to Buddhist monks and nuns, we have the solid beginnings of an excellent textbook. The framework of a pilgrimage with exercises based on Buddhist themes enables the students to explain and discuss Buddhism in English. Unfortunately, we are much better at writing dialogs and developing activities than at presenting grammar points and writing grammar exercises. We would love to have someone with that bent help us in expanding and polishing the textbook. Certainly, that will have to happen before it is ready for publication and distribution for wider use. We will also have to develop a Teacher's Guide.

With some extra time allotted to us, we read the Jataka tale, "Not One Drop of Blood," rehearsed it as a radio play, and recorded it with special sound effects. The students were amazed at how good they sounded when we played it back for them!

Our old friend from Kansai, Maura, who lives in Kolkata, volunteered to conduct an art lesson for our students. She began by reading Shel Silverstein's The Giving Tree. Then she gave each student a piece of paper and arranged them on the floor, with a huge variety of art supplies and materials in the center. Everyone began drawing, cutting, folding, and pasting to create something. After a few minutes, she told them to switch by each passing his paper to the person on his right. Of course, there were loud protests: "Oh, no!" and "I'm not finished!" but they had agreed beforehand to comply. In the end, all had added something to each piece, and, when all the pieces were joined into a stunning collage that was hung on the classroom wall, everyone was extremely satisfied. What fun!

Most of the students appreciated the controlled writing program we used, and some are continuing via email. It is good grammar practice, with emphasis on consistency. Each student can progress at his own pace and gains confidence with each step.

The evening activities were optional and lots of fun. We had an impressive library of movies with us, including "Beauty and the Beast," "Holes," "Chicken Run," "Spirited Away," and "Inherit the Wind." We also played our versions of such games as Bingo, Go Fish!, Buddhist Concentration, and, of course, Buddhist Knowledge Quest. In the BKQ tournament, two students emerged as winners at all four levels, and there were prizes for everyone who played. Several evenings each week, Steve and Vivi conducted free conversation sessions. Many students joined and enjoyed it; they appreciated the chance to express themselves in a relaxed atmosphere.

It's always a good sign when students reuse language in new situations. We were happy to hear this happen. In particular, the expressions "Excuse me!" (from "Holes") and "You can say that again!" (from Merit) kept recurring.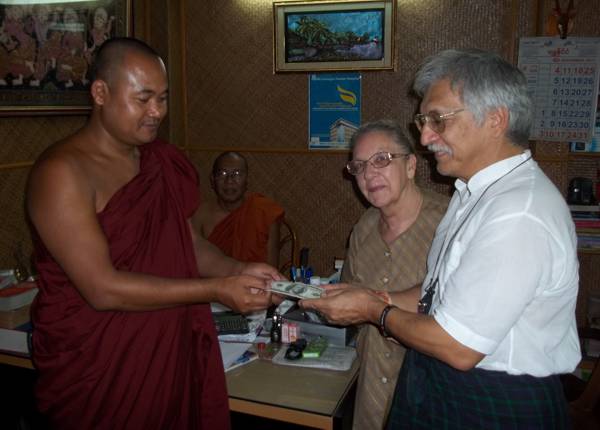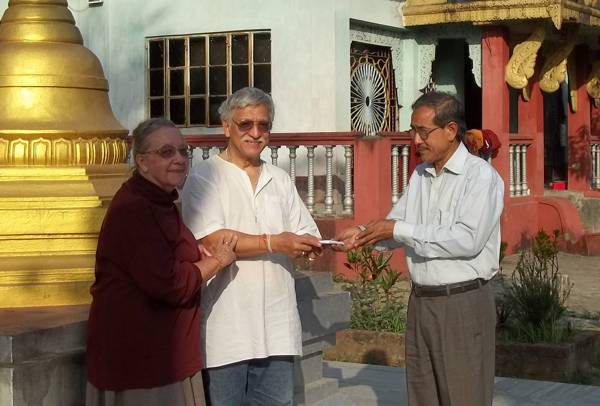 While we were at the monastery, we had two unannounced visitors, to whom we were able to hand over donations we had just received from a supporter in Italy. The first was Maung Yein, Director of Harbhang Rakhine Adarsha Shishu Shikshalaya. He had heard that we were at Bodhisukha and had come from Bangladesh with photos of his orphanage and school. He has plans to expand the school, and we would like to help. In the near future, we will post those photos and his proposal. The second visitor was Ven. Dhammapiya, principal of Dhammadipa International Buddhist Academy. He informed us that several permanent buildings have been erected to replace the bamboo structures destroyed in the fire several years ago. The school is going on well, but some of the novices have been sent to other bhikkhu training centers in Ranchi, BuddhaGaya, and Bangalore. Steve accompanied him on his return to Tripura and spent a few days there studying the situation and taking a lot of photographs. For her part, Vivi had a welcome opportunity to visit Santiniketan, made famous by Nobel Laureate Rabindranath Tagore.

As soon as we had arrived at Bodhisukha, we noticed that there was a garbage problem. We learned that the city had refused to carry away the trash because there was so much. After discussing this with Ven. Nandobatha, we suggested separating the refuse. The trash barrel at each location in the monastery was replaced with three, each clearly labeled in English and Burmese–"Paper," "Plastic", and "Food and Compost." Two pits were dug for compost; paper is easily disposed of; and the city now gladly carries away plastic and unburnables. It was encouraging to see everyone in the monastery carefully observing the separation policy. Bodhisukha has become green, as attested by signs sprouting on every tree: "Bodhisukha loves Green," " When you refuse to reuse, it's our earth you abuse," " Reduce! Reuse! Recycle!" and many more. We also printed other thought-provoking signs, such as, "No compassion! No peace! Know compassion! Know peace!" and "We work best when we work together" with suitable fonts and colors, and the boys posted them around the compound.

Naturewise, Bodhisukha is a bird haven. Every morning we were awakened by a chorus of songbirds, and it was repeated at sunset. There was a pair of kingfishers which regularly visited the pond, and spotting them was a treat for both teachers and monks. Visakha caught a glimpse of a red-headed woodpecker near the pagoda only once, but we heard him often. We could also hear a hoopoe, but he never let himself be seen. Interestingly, the babblers in Bengal have a different dialect from those in Sri Lanka.

March and April are supposed to be the hottest months in Kolkata, but, this year, the weather was strange. The heat was never oppressive--some days were downright pleasant–and Vivi opined that Kolkata was considerably cooler than Colombo. We also survived several powerful storms with rolling thunder, almost continuous lightning, howling winds, and sheets of rain. Oddly, there are no mangoes in the area. Last year, there were green mangoes hanging right in front of our lodge door. We had watched them ripen and had listened to small mangoes falling on the roof at night. The trees throughout the monastery were laden with fruit. This year, there is not a one. All the trees in the entire area are bare.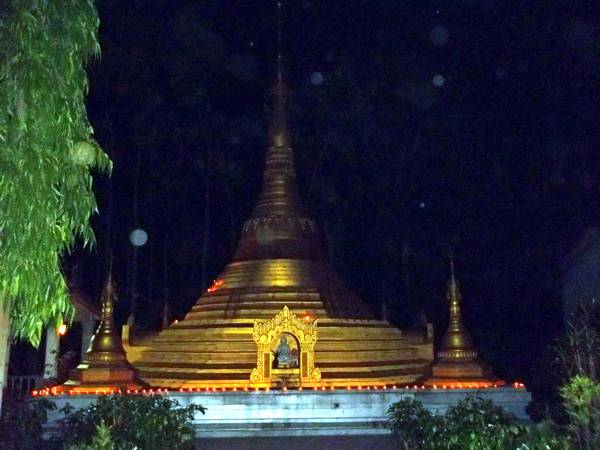 Pilgrim groups came and went, and patients commuted to the hospitals for treatment, while we steadily carried out our program. Each day had a comfortable routine. In the morning, we worshiped and circumambulated the pagoda. It was an agreeable walk around the pond to the classroom. In the evening, Visakha practiced walking meditation at the pagoda, sometimes alone, sometimes with other yogis. Our rooms, with computers, fans, air conditioners, and refrigerator, were well-fitted for work and sleep.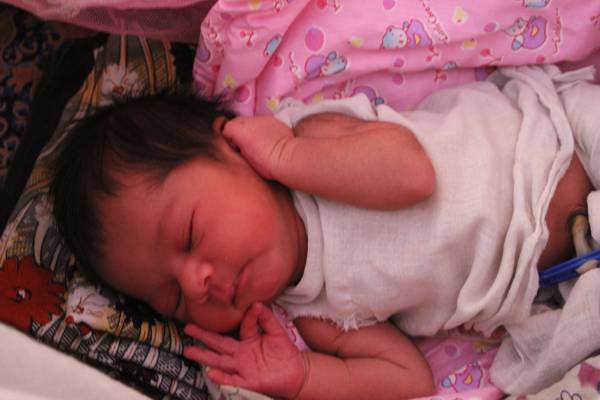 Thida Constance Chowdhury was born on Friday, April 13, minutes before Bengali New Year. She has a gorgeous head of hair and warm brown eyes, and she is beautiful! Her birth was the high point of our stay in Barasat. Along with co-grandparents, Susan and Martha, we welcome her to this amazing world. We expect she'll grow up strong, steadfast, poised, confident, adventurous, and speaking lots of languages. We wish her well! Leaving her was the only difficult thing about returning to Sri Lanka.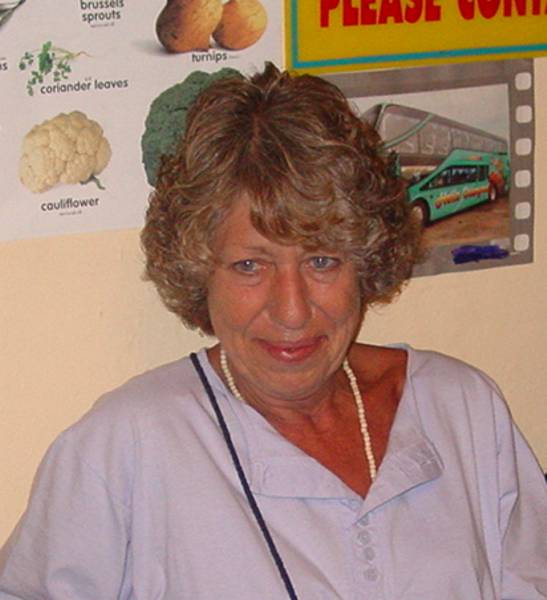 As this report was being finished, we got a call informing us that our good friend, Margot, had passed away after surgery. Margot loved India, Burma, and Thailand. She was a serious meditator and made great use of her pain to see reality. She had given a lot of herself to the cause of Burmese democracy, and she cared passionately about children, their rights, and their welfare. In one of her last letters to us, she was wrestling with the issue of vegetarianism. She was literally wasting away, and her doctors had recommended that, since she needed more nourishment, she should begin to eat meat once more. She had expressed misgivings. We will miss her thoughtful messages. In 2007, she conducted a training session for the Bodhisukha teachers. She told us how much she enjoyed the video of Rajiv's wedding. She would have rejoiced in Thida Constance's birth.

| | |
| --- | --- |
| | |
| | |
| | |
A few days before the call, we'd invited all the monks and nuns who regularly study with us at Subodharama to celebrate our safe return to Kandy. We took the opportunity to dedicate this meal to Margot, with chanting in Pali by the Burmese monks, in Chinese by both the Koreans and the Chinese, and in Tibetan by the Bhutanese. May she share in these merits, and may she soon achieve Nibbana.