SNAFU? No. TARFUN? No. FUBAR? YES!, April 8, 2020

Most of the world is under lockdown, which will certainly continue for weeks or months. For many, life is upset, and those who are paying attention by not listening to the sociopathic leaders of too many countries foolishly claiming that this is a minor event are terrified.

We humans are so used to seeing ourselves as unique and all important and everything else in nature as something to use, exploit, sell, or kill that we are content to ignore burning rainforests, habitat collapse, and wholesale extinctions. Unless it directly, immediately, affects us, we don't much care.

If this crisis were limited to people of color, women, the poor, or ethnic or religious minorities, few would pay attention: "Ho-hum; don't worry; it'll all work out." It would seem even less urgent if it just affected polar bears, koalas, rhinos, or butterflies, let alone dandelions or Queen Anne's lace

Medical science and reality-based news are clearly telling us, however, that this crisis will affect humans all over the globe. The virus will infect white, male, property-owning humans, heads of state, and royalty even.

While we should be deeply concerned and take all necessary precautions, we should also take Covid-19 as a warning. Far more than a mere pandemic, it is a clarion call to radically change our ways of living. If we return to "business as usual," we will accomplish the unspeakable, the end of all intelligent (and moral) life on earth (and we include elephants, orangutans, whales, and many other of our fellow mammals in that category).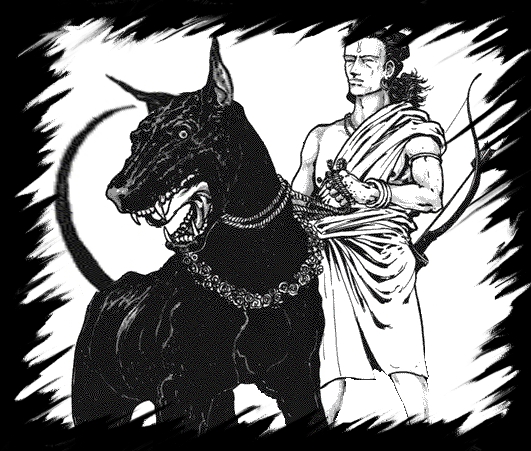 A dramatic Jataka tale, Maha-Kanha Jataka, "The Great Black Hound," recounts how, many eons ago, the Bodhisatta as Sakka, King of the Gods, noticed that humanity had become so vile, corrupt, and immoral that the world was in danger of destruction. In order to save the world, Sakka descended from heaven with a fierce black hound, with a voice so loud it could resound across the universe, to frighten the people and to wake them up to their peril. What, if not Covid-19, will wake us?


The pandemic should be understood as a symptom of the disease which afflicts our global economic, political, and social order, as well as the entire natural realm, of which we are a part. The disruption has exposed the fragility and danger of industrialized, predatory, neo-liberal capitalism, which depends on unlimited growth and the accumulation of wealth by a few individuals, while exploiting the masses as laborers as cheaply as possible and using all the earth's resources as raw materials.

When the capitalist system hiccups and falters, even only for a few days or weeks, businesses discover that they cannot survive, and the workers, the overwhelming population, are suddenly left with no income, no protection, and no support. Ironically when such a crisis occurs, capitalism rediscovers "socialism," and businesses get bailed out.


This system of capitalism has pillaged societies and ravaged the environment, but has become, by default, the "natural order" of things, despite the gross inequalities and absurdities inherent within it. We seem to have lost the notion of commons, of cooperation, of community, of public welfare, and of government for the people.

Our involvement with refugees began in 1980 in Flint at the International Institute. Subsequently, we worked for the Consortium in Thailand in Ban Vinai and Panat Nikhom Refugee Camp and for ICMC in Bataan in the Philippine Refugee Processing Center. Soon after we returned to Japan in 1983, we met some Vietnamese refugees resettling there and established the Association for Indochinese Refugee Relief Assistance--Kansai to help them with Japanese language and cultural orientation. Every summer, we spent part of our vacation visiting Hmong, Lao, Vietnamese, and Cambodian refugee camps in Thailand. To assist us in this endeavor, as Buddhist Relief Mission, we received small donations from many friends and large donations from several Japanese temples. After 1988, we established Burmese Relief Center--Japan to include refugees and displaced persons from Burma. In 1999, we returned to the USA to look after Visakha's mother, and Burmese Relief Center--USA assisted several families to resettle in Flint.

We long ago learned that ordinary people, farmers and housewives, laborers and seamstresses, traders and fishermen, monks and generals, artists and teachers, the elderly and infants, could have their lives completely shattered, upended, and uprooted. When we read of Rohingyas, Syrians, Salvadorians, Karenni, Yemenis, Shan, Somalis, Kurds, Hondurans, or Guatamalans, fleeing war, instability, famine, and drought, and seeking asylum in a safer place, we know that anyone might one day become a refugee. It CAN happen here. It is happening now.

It is evident that the world is heading toward a great depression, potentially much worse than the 1930s. Both of us remember hearing stories from our parents of hardships and uncertainty. Visakha's dad described one spring on the farm growing up when the family had no money, and all there was to eat was a sack of carrots in the cellar. They survived, but their skins turned orange. Ken recalls the oft-repeated story of the time a chair was being lifted over the dining table. It hit the ceiling lamp and shattered a bulb which sprayed glass over the food. Without hesitation, his mother rushed the platter of meat to the kitchen sink, rinsed it thoroughly, and served it to the children. Nothing could be wasted!


We must remember that the United States weathered the Great Depression, thanks to FDR's New Deal, a brilliant socialist program to employ millions of workers for the betterment of society and providing essential safety nets for all. Perhaps, only something that revolutionary and forward-looking will enable us to survive the looming depression. After the devastation of World War II, the Marshall Plan rebuilt Europe, and a plethora of idealistic organizations dedicated to promoting peace and protecting human rights came into being within the United Nations, protecting refugees and children, providing disaster relief, and mitigating poverty and hunger. Does anyone have that vision today?

Our personal perspective on the suffering caused by the pandemic and the unsustainability of having a man-made system outside of nature, as if we weren't part of Nature or affected by natural events, has been shaped by several factors. Some months ago we created a series of lessons based on historical disasters, manmade and natural. We made graphic posters depicting the Black Death, the Spanish flu, the Atlantic slave trade, the Boxing Day tsunami, the Cambodian genocide, and Fukushima, etc. and had our students identify, study, and discuss them. The research alone was eye-opening.

Click each poster to view it larger.
| | |
| --- | --- |
| | |
| Rival Earth, posted on Extinction Rebellion Buddhists, Facebook | |
| | |
Obviously, the Coronavirus is just one more in this series, but with one very key difference. Covid-19 is our final warning. Either we learn how to respect this earth as our only home, shared with many others, or we're finished.
| | |
| --- | --- |
| | |
| Shehan's representation of drought and climate change | |
| | |
We've long written about climate change and developed lessons about it. In 2007, as soon as it was released, we used "
An Inconvenient Truth
"
in one of our intensive courses. From that time, we have continued emphasizing the need for a radical change in our way of life and a reevaluation of our priorities.
Global warming, or climate change, is also a result of predatory capitalism, but its effects, though potentially more catastrophic, are not as dramatically visible and disruptive to the daily life of most people as Covid-19, which cannot be ignored! The Amazon fires, the bush fires in Australia are over and easily forgettable. The pandemic just goes on and on and we can't look away.
"When doomsday comes, if someone has a palm shoot in his hand, he should plant it."
--Prophet Muhamad
In a previous report., we introduced Ecodharma, by David Loy. Let us again stress its importance. Dr. Loy clearly outlines a rational, and essentially Buddhist course of action for humankind to attempt to survive the climate crisis. Although he writes as an American Buddhist scholar, weaving together threads from all traditions, he opens each chapter with a collection of quotations from many different thinkers, including religious leaders.



We recently read Ven. Sucitto's book Buddha Nature, Human Nature and were surprised at the sources of two quotations which struck us the most.

The "control of nature" is a phrase conceived in arrogance, born of the Neanderthal age of biology and philosophy, when it was supposed that nature exists for the convenience of man. The concepts and practices of applied entomology for the most part date from that Stone Age of science. It is our alarming misfortune that so primitive a science has armed itself with the most modern and terrible weapons, and that in turning them against the insects it has also turned them against the earth.
Rachel Carson, the conclusion of Silent Spring, Houghton Mifflin, 1962

A human being is part of the whole that we call the universe, a part limited in time and space. He experiences himself, his thoughts and feelings, as something separated from the rest -- a kind of optical illusion of his consciousness. This illusion is a prison for us, restricting us to our personal desires and to affection for only the few people nearest us. Our task must be to free ourselves from this prison by widening our circle of compassion to embrace all living beings and all of nature
--Albert Einstein,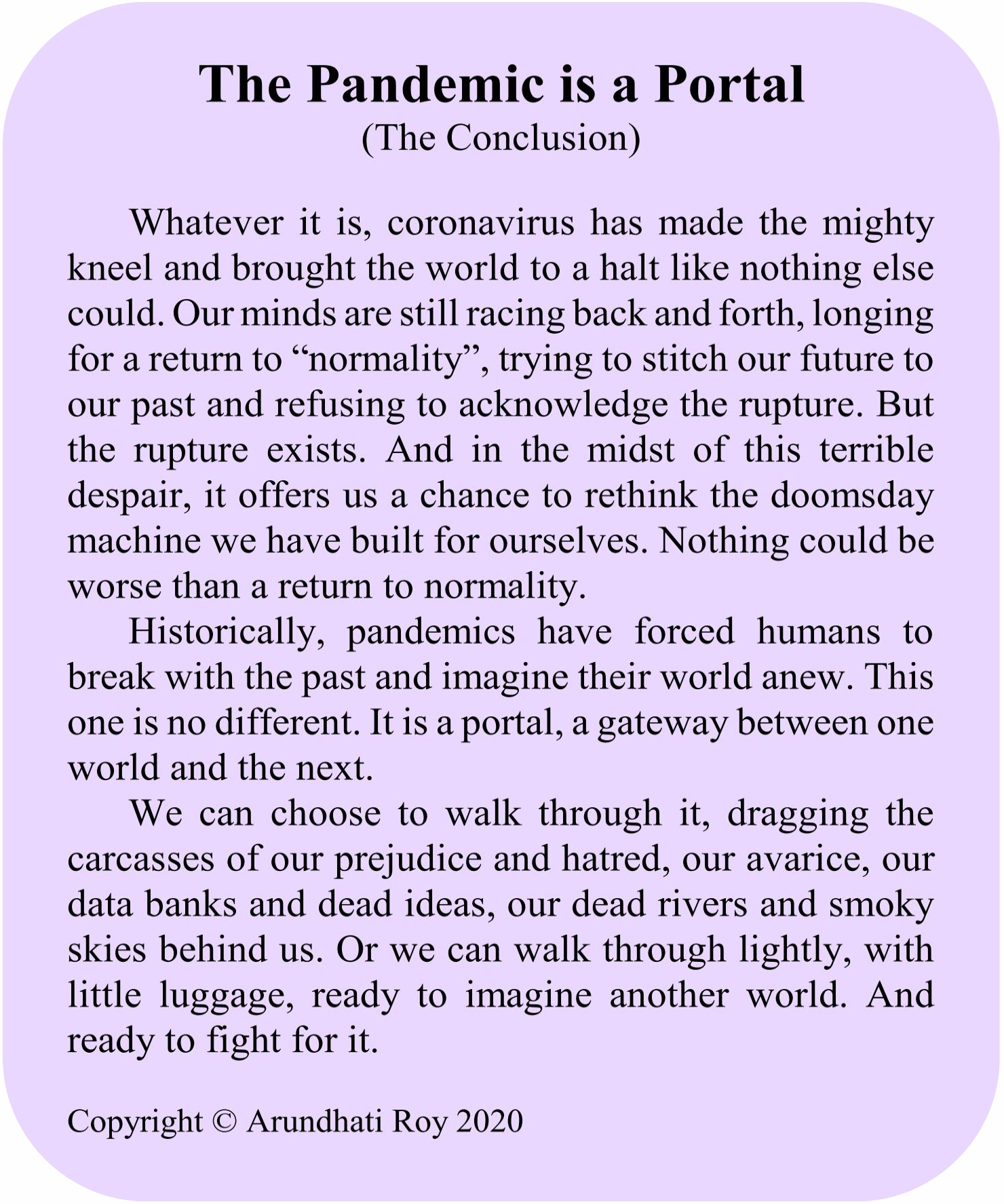 The last three paragraphs of this cogent article by Arundati Roy, which first appeared in "The Financial Times", expresses exactly what we have tried to say here.


A View from an Indian Doctor

"Social distancing is a privilege. It means you live in a house large enough to practise it. Hand washing is a privilege, too. It means you have access to running water. Hand sanitisers are a privilege. It means you have money to buy them. Lockdowns are a privilege. It means you can afford to be at home. Most of the ways to ward the Corona off are accessible only to the affluent. In essence, a disease that was spread by the rich as they flew around the globe will now kill millions of the poor. All of us who are practising social distancing and have imposed a lockdown on ourselves must appreciate how privileged we are. Many Indians won't be able to do any of this."


(Shared by many on Facebook)
No one can depend of TV news to stay abreast of current affairs but we're grateful to France 24 and Al Jazeera for giving us a more global perspective. Nor can anyone get the complete picture from only one newspaper. In a previous report, we listed some of the blogs that we depend on for information from a wide variety of sources. Here, we would like to present some of the articles we have found during the last month or so. We don't expect anyone to read all of them, but you may find a few of them informative.

Click HERE for a list of interesting and relevant articles, with links.

Throughout the remainder of this report, you can enlarge most of the photos by clicking.
In January, Lily and Shehan were able to go to India for the Ayyappa pilgrimage in Kerala. For much of December, it was touch and go, but, at last, parental permission (father overseas), passports, visas, and tickets were all arranged, and the two-week trip went smoothly. This was Lily's second time, but Shehan's first, and he was thrilled to be a part of it. How wonderful that their pilgrimage was completed before the current restrictions on travel!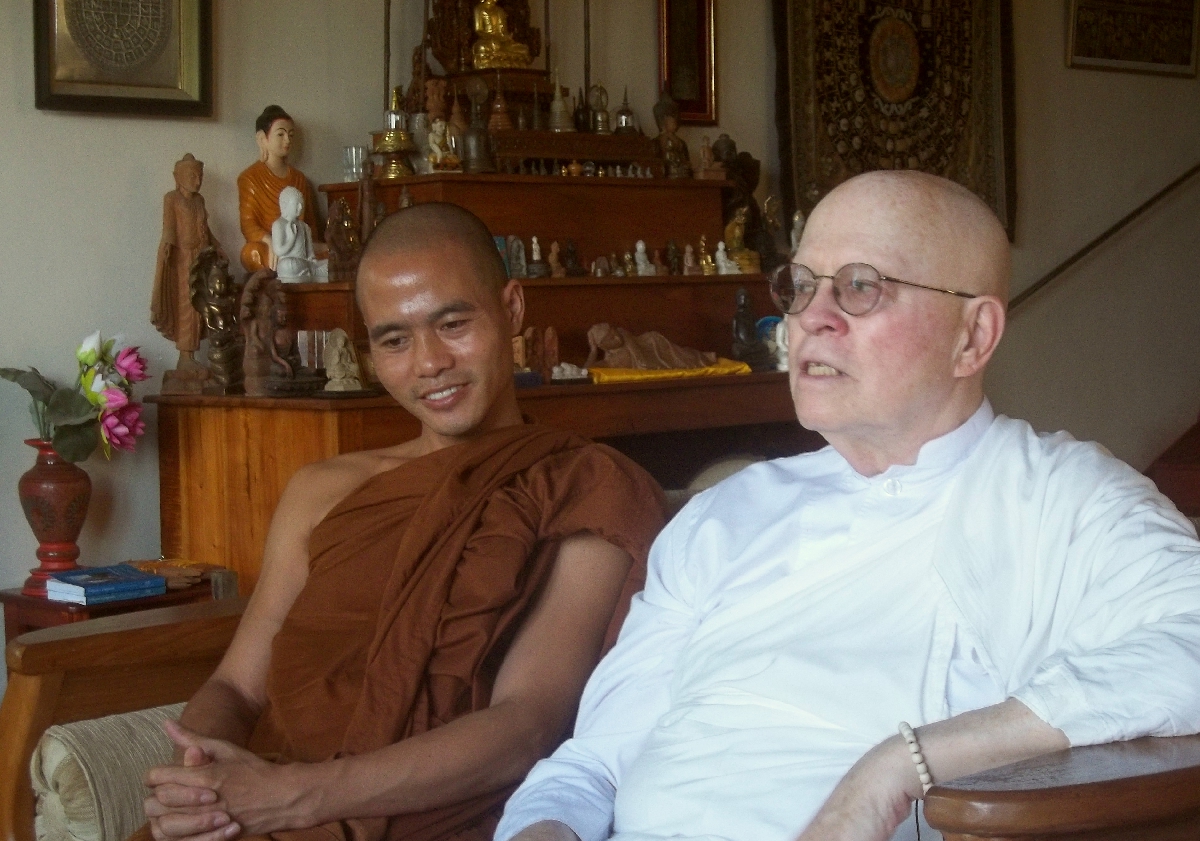 We've also been fortunate to have had visits from good friends during the last few months. In January, Terry, who had taken the name of Dhammapala Anagarika in Tucson, stayed with Ewen for a few days on his way to India to meet his teacher and to be ordained in Sarnath as a Samanera. We were delighted that he was able to spend a few hours with us.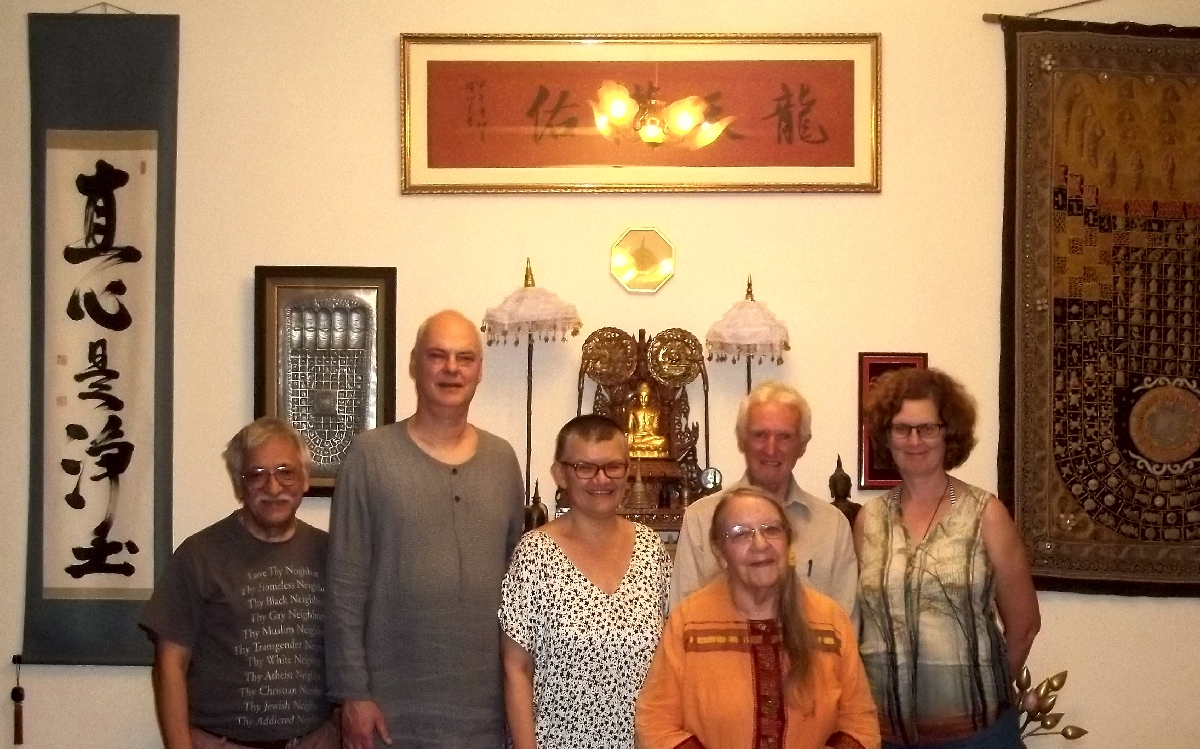 About a week later, Michaela, a Servas traveler from Leipzig, stayed with us for two nights. She recounted her experience in the revolution which began in Leipzig and resulted in the fall of the Berlin Wall and the reunification of Germany, Fascinating! While she was here, Ewen brought his Belgian friends, Johann and Heidi, who had just finished their meditation at Nilambe. We had a lovely meal with them.

Later that month, Madoka came from Japan. She is living in Tokyo, where she teaches both meditation and yoga. We had a wonderful ten days, watching movies and catching up on the last fifteen years. This was her second trip to Sri Lanka, so she didn't want extended tours, but she did visit the Botanical Gardens with some of our students, the International Buddhist Museum, and a few temples. We also had a chance to chat with her parents via Skype. In the middle of her stay, we hosted a Coopoly party for a few friends. It was a lot of fun, but, as usual, we forgot to take any photos! Dushy came up from Colombo, and we had a great time. How fortuitous that she and Madoka were able to return to Colombo together by train!

| | |
| --- | --- |
| | |
| Walking path and lotus pond at Nilambe | |
| | |
On March 4 (Happy Birthday, Dean!), just as the Coronavirus outbreak was beginning here, Bruce arrived from Nara, for his second treatment of Srihab. His job in Japan is very demanding so he just wanted to relax, enjoy Lily's splendid cooking, and enjoy being here. We watched great movies, had good discussions, and meditated every evening. He had scheduled and was very excited about a ten-day meditation retreat at
Nilambe
, which was everything he'd hoped for! Unfortunately, his stay was cut short by the virus lockdown. Ashoka was able to bring him back early, and, although his return flight was canceled, Sri Lankan Airlines was able to put him on a plane straight to Tokyo, rather than his originally planned transfer in Bangkok, with a LONG layover. We were grateful for the extra time with him and hope that staying here will be an annual occurrence, with time out for retreats at Nilambe.
| | |
| --- | --- |
| | |
| Click photo for more | |
| | |
The day after Bruce arrived, we held our Subodharama class at the house, including a dana for Bruce's birthday, in memory of George Rubenson, Ken's sister Nancy's husband, who passed away recently. We also sent our best wishes to the brother of our neighbor Veena, who recently fell and broke his back. Our students offered Dhamma talks and chanting as we shared merit with all.
With Bruce we made piles of sandwiches, which we took with soup and other snacks to the Kandy Cancer Home to serve the patients for high tea. It's always a joy to wait on them and when they sang Happy Birthday to Bruce, he looked surprised and pleased. A few days ago, Lily called the Cancer Home and learned that, since no donors could visit the Home because of the lockdown, there was a severe shortage of food. During the few hours of respite from the lockdown, we were able to effect a delivery, including rice, potatoes, onions, dhal, other dry goods, oil, and Nestomalt, from one of the local supermarkets. Ewen and Mike have asked to share in that donation. Sadhu! Sadhu!! Sadhu!!!
| | |
| --- | --- |
| | |
| Click the photo to see photos of visits to Ven. Nanda's hermitage. | |
| | |
| | |
In January we had a surprise visit from Ven. Nanda, the nun whom we are supporting as mentioned in our last report. She was visiting a patient in Kandy Hospital, and called to find out where we lived. It was a very short visit, but we were delighted to see her. One day, Lily took Madoka to the hermitage. Later, we went with Bruce. They were both very impressed by her earnestness, diligence and calm demeanor. The day before the lockdown started, Lily, Shehan, and Ashoka were able to visit Ven. Nanda once more with some rations and a copy of Anguttara Nikaya, which she had requested, Lal had bought, and Dushy had brought from Colombo. Because of the lockdown, however, all the repairs and improvements on her kuti and Dhamma Hall are postponed indefinitely.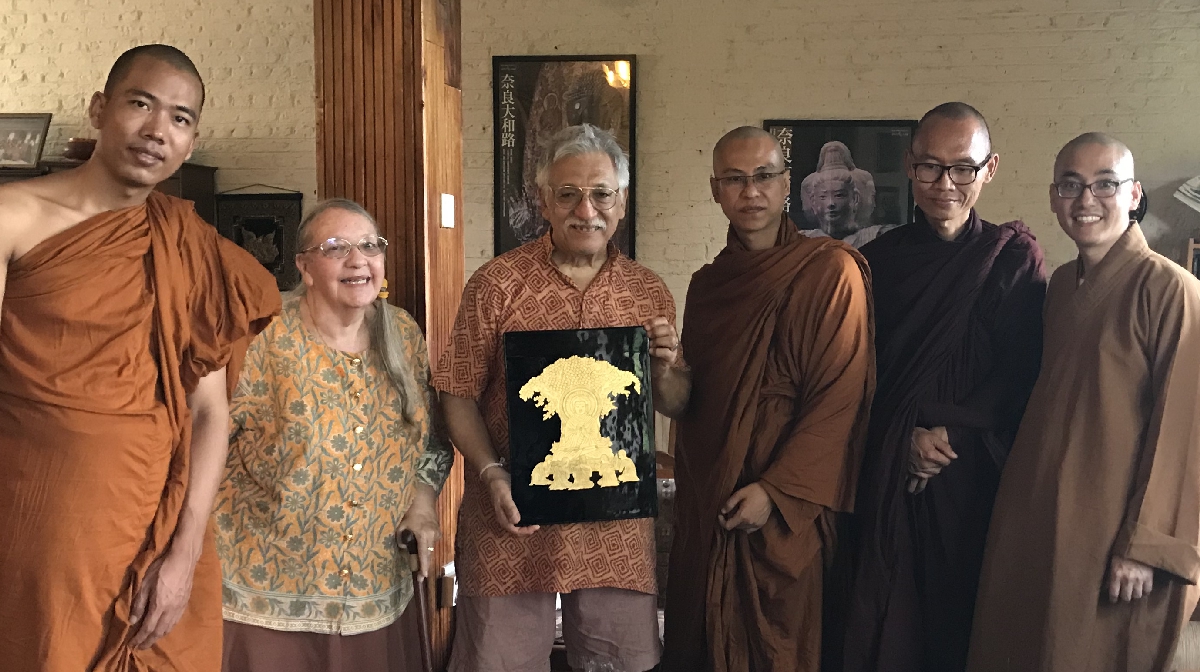 In February, we had another surprise, this one from a former student, Ven. Pannadikalankara. He was on pilgrimage to Anuradhapura with a large group of monks and made a point of taking time to visit us. He remembered that, many years ago, when we had taken a golden lacquer plaque of the Buddha teaching the First Sermon to be framed, the shopkeeper, in cleaning the plaque, had removed all the gold. Ven. Pannadikalankara had promised to replace that plaque with a new one from Burma. His visit was to honor that promise. Sadhu! Sadhu!! Sadhu!!!
| | |
| --- | --- |
| | |
| Menusha has returned from her one-year study in England. | |
| | |
We are sad to report that Nezumi is failing. For several months, she has had a dreadful open sore on her forehead, which looks terrible, but seems to be causing no pain. She has been treated by several veterinarians, with different medicines, but nothing has had any lasting results. More than a month ago, the senior vet said that there was no need to bring her back again. We knew what that meant. The sore is growing and spreading. She has adjusted to wearing the cone and doesn't protest when we put it back after giving her a good rub and allowing her to groom everywhere but the sore. For the last two weeks, Nezumi has slept most of the time. She craves sitting in our laps, eats well, though she is drinks almost no water, and she is still beautiful. However, we do not expect her to last much longer. She is, after all, 14 year old, which, in human years, is about 80. She still loves to be talked to and petted, have her ears scratched and her chin chuckled. She's a grand cat and we love her very much. Separation is natural.
For several years, an orange tomcat which "belonged" to a house next door, regarded the whole neighborhood as his territory. He repeatedly threatened Nezumi when he could catch her outside. He menaced Leo, who was neutered as a kitten and has grown into a big sweetheart, to steal his food. We even took to locking Leo in the gardener's room, with a sandbox, overnight, but he never really got the hang of how to use the box and we finally gave that up. To protect our cats, we got two yellow squirtguns and kept them full of water. At least this orange Tom was intimdated by a spray of water!
Sometimes we'd hear a catfight, call Leo from the roof, feed him in the kitchen, and put him out again after the orange cat had gone away. The orange cat once gave Leo a horrific gash along his rear and tail. For the last few months, poor Leo has tried to escape the harassment by sleeping upstairs on the balcony/roof.
For almost a week we didn't see the orange Tom. About a week ago Lily reported that he had been injured. He'd stepped in one of the wire snares Sri Lankans put out to trap animals. The trap had cut into his leg, and he was limping badly. She tried to get close to him, but he ran away. The son of the orange cat's owner was able to catch the cat and cofine him. He called the vet, who came and amputated the cat's leg. When the cat regained consciousness, he escaped again, and eluded capture. The poor thing, without medicine or care, was soon in very bad shape. The other day, he turned up at our back door, seeking refuge. He curled up under the our solar cooker table . Lily tried to feed him, but he seemed too weak to eat. She offered him milk, and he lapped that up eagerly. He also drank a little water. Then, a few minutes later, he was gone.
Lily called at the owner's house, and the two sons came to take care of the body. Lily showed them a suitable place in our spacious yard, gave them shovels, and they dug his grave, which is now covered with rocks to keep the polecat from digging up the body. We are glad that, at least, his thirst was satisfied before he died. Poor orange Tom. May he have a happier rebirth.

Waruna and his wife, Yumi, invited Madoka, Bruce, Ewen, and us to

The Kandy Samadhi Centre

for delicious vegetarian meals.

Ashoka, his daughters, and his niece on a New Year's visit

Planting potatoes in potato bags

Shawna's Facebook representations of Visakha and Ken listening to Trump

Ken fell and gashed his forehead--two stitches
Shehan's dog, Ran, with us during the lockdown

Dried flowers

A pregnant spider in our bedroom

Fireworks!

Our na (ironwood) tree,
Sri Lanka' national tree

A lovely fern

?

Jambu make a delicious crumble pie with cherry concentrate or mango.

The view of the valley behind our house

Our solar cooker, produced locally by EMACE Foundation.
It cooks eggs perfectly without water, and it's great for reheating leftovers.